We all enjoy a strong bowl of flavorful Laksa on any given day of the week as Malaysians. In Miri City and craving for Laksa?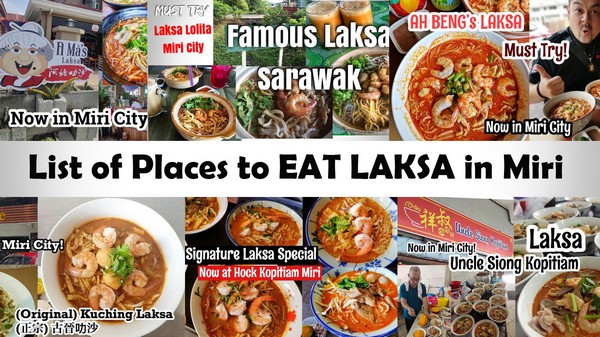 We've listed some of Miri City's most famous Laksa dishes for you to try. These stalls and restaurants all over Miri City serve delicious local laksa. You can press on each picture to read the details.
1. A Ma's Laksa

Probably the best laksa in Miri, with friendly staff and a lovely setting. Located in the Senadin residential area.
Address:
Lot 5992, Jln Promin Jaya 1, Lutong, 98000 Miri, Sarawak
Phone: 019-888 1851
2. Laksa Lolita

Laksa Lolita – Miri's Popular Sarawak Laksa! TRY IT OUT! The popular Malay Sarawak Laksa has relocated from Piasau Golf Club Hole 16 to a new location in Piasau Utara. It's a well-known Sarawak Laksa that you must try in Miri City!! It's time for breakfast. Whoop. It's delicious.
Address:
Laksa Lolita Lot 349, Piasau Utara, Jalan 1, 98000 Miri Sarawak
Phone: 019-685 9348
3. 63 Cafe Miri

Original Kuching Laksa stall now at 63 Cafe Miri.
This place comes highly recommended if you're looking for a decent laksa with a larger portion and a reasonable price.
Address:
LOT 755, GROUND FLOOR, BLK.9, Jalan Calliandra, MCLD, 98000 Miri, Sarawak
Phone: 016-892 8515
4. Uncle Siong Kopitiam

Yummy Laksa at Uncle Siong Kopitiam in Miri City. You can now eat at Taman Tunku Miri, where the laksa special, served with Chee Cheong Fun woo, is delicious.
Address:
Ground floor, s/lot 9 of parent, (survey lot 12230) lot 2447, blk 5, Taman Tunku, 98000 Miri, Sarawak
Phone: 012-871 1511
5. AH BENG's LAKSA

Let's Welcome AH BENG's LAKSA by Sin Foh Cafe!
欢迎光临由33年老店《新和茶室》所创立的全新品牌 – 《Ah Beng's Laksa》叻沙专卖店!
Address:
Opposite Krokop 老杨Kopi店
6. 輝煌食家 Glorious Gourmet

Laksa 放大头虾一级棒 还有新品Sarawak Laksa
欢迎大家来品尝
Address:
輝煌食家 Glorious Gourmet
Lot 2087, Marina Square, 98000 Miri, Sarawak.
7. Hock Kopitiam 福记

Signature Laksa Special now at Hock Kopitiam Miri
The laksa was delicious, or "sedap" as the locals call it. You would undoubtedly make an attempt to return there.
Address:
Hock Kopitiam 福记 at Marina Parkcity Miri Phase 1
8. Tak Tau Cafe Miri

Tak Tau Cafe Miri now serves delicious Special Laksa. You can also try one of their specialty drinks.
不鸡道茶室的美味Laksa Special 特别绿茶三酸饮料
Address:
Tak Tau Cafe Miri 不鸡道茶室
6326, Jln Tung San Garden, 98000 Miri, Sarawak.
9. Tunku Corner Cafe

Tunku Corner Cafe Miri has some delicious Laksa Udang Galah! It's delicious and enticing!
Address:
Tunku Corner Cafe, Taman Tunku
Nearby Klinik 1 Malaysia Taman Tunku
10. Mini Cafe – The taste of Bekenu

Laksa Udang Galah you can find at Simpang Bekenu Miri
Their prawns are just out of the river. They serve it with Sarawak laksa, which is one of their shop's specialties, and it's 100 percent wild and young. This shop is in Simpang Bekenu, one of the modern shoplots along the Pan Borneo highway.
Address:
Q287, 98150 Bekenu, Sarawak
Phone: 013-817 7729
11. Lavender Cafe

They are serving some of their signature dishes such as lobster laksa, lobster wa dan ho and lobster buttermilk with fried rice.
Address:
Lavender Cafe
Lot 1971, Marina Parkcity Phase 2
Miri, Sarawak 98000
Tel: 016-922 8051
12. Madam Wee Laksa

At Madam Wee to check in and eat delicious Sarawak Laksa. Their laksa still so fragrant and delicious! The most important thing is that their shrimp is clean and fresh.
Address:
Madam Wee Food Cafe
Jln Murraya, 98000 Miri, Sarawak
Phone: 016-871 4300
13. Pin Fook Cafe 品福茶室

Good Laksa and kolomee you can find here. It's time to try their Laksa Special also! A wide variety of kolomee choices.
Address:
品福茶室 Pin Fook Cafe
Riam Willow Shophouse, 98000 Miri, Sarawak, Malaysia.
Phone: 019-8431998
14. Ling Long White Coffee 玲珑海南白咖啡
A great place to have breakfast in Miri UTC area. They have great laksa too, just look at the picture!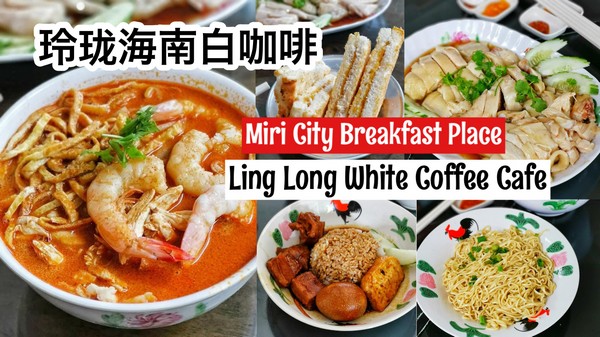 Address:
utc对面的商业店。角头间。
1348, Jalan Kwangtung, 98000 Miri, Sarawak
Phone: 012-555 4612
15. Scoopy's Gerateria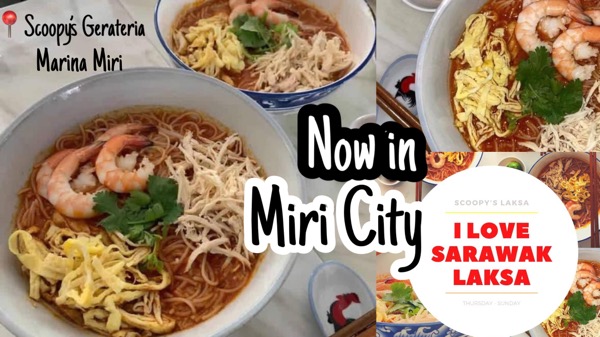 Yummy Laksa found at Scoopy's Gerateria Marina Miri
Thick taste and Fragrant Laksa is now available at Scoopy's Gerateria Miri
There are also home made ice cream, cakes, coffee, tea.
Address:
Ground Floor, Lot1891, Jalan MS2/1, Marina Square 2, Marina Parkcity, 98000 Miri, Sarawak.
Phone: 013-659 0922
Is there any more recommended Laksa dishes in Miri City that should be added? It's possible that we'll be missed out some. Please let us know.
Remarks: The information given above is subject to change at any time prior to publication. So please let us know if you discover any possible mistakes.