Oppa Gangnam Style Shoes Printed with PSY
The "Oppa Gangnam Style" performed by Korean rapper Psy is getting more and more popular in anywhere around the world. It is so famous that in the city you can find a lot of products printed with PSY dancing Gangnam style like bags, shirts, pants, phone covers, etc.
Here we found a Gangnam Style shoes where you can buy it from IVGShoes. Dance with it!
No comments yet.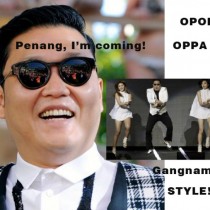 about 4 years ago - No comments
Popular Korean singer PSY, will be coming to Penang, Malaysia during the Chinese New Year, at least 60,000 people with crazy jump "horse dance" by the moment! "Guangming Daily" discovers the exclusive news swept the world of horse riding dance Korean singer PSY, traveled to Shanghai, China in this year's New Year's Eve as Dragon…