Tim's Seaside Hideout Cafe & Lodge is a family-run home stay, overlooking the beautiful SCS, great beach & amazing sunset. Great family getaway. This place is Located at Jln Bakam @ Beraya Beach about 20 mins from Miri City centre.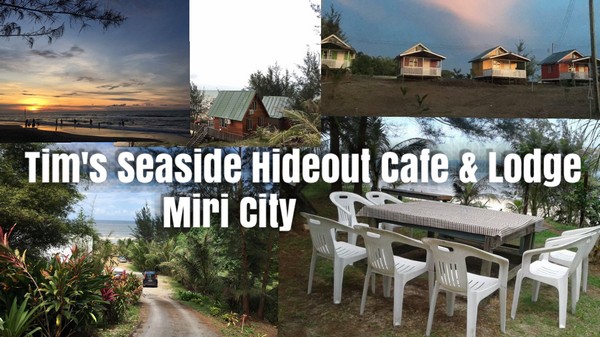 Relevant informations for valued customers.
There are 4 types of chalet. All chalets have a/cond, water heater & kettle jug c/w coffee & tea.
Check in : 2 pm
Check out : 12 noon
Breakfast : 7.30 – 10.30 am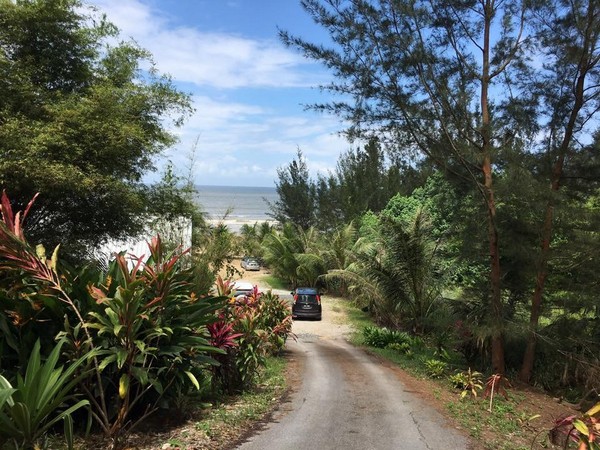 Ready for check in today. Beautiful ambience with amazing sea view.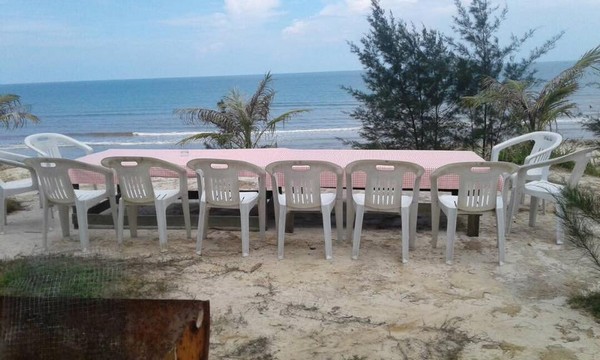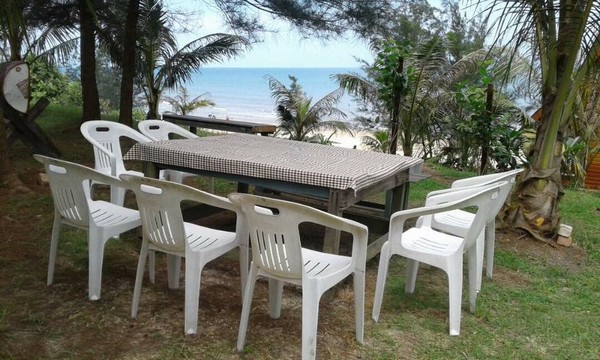 We add 3-rooms chalet.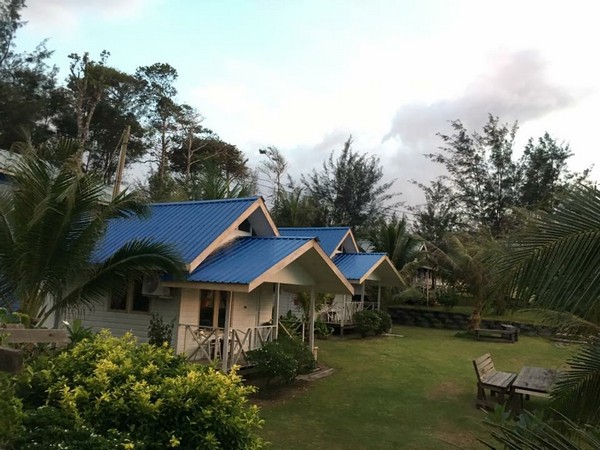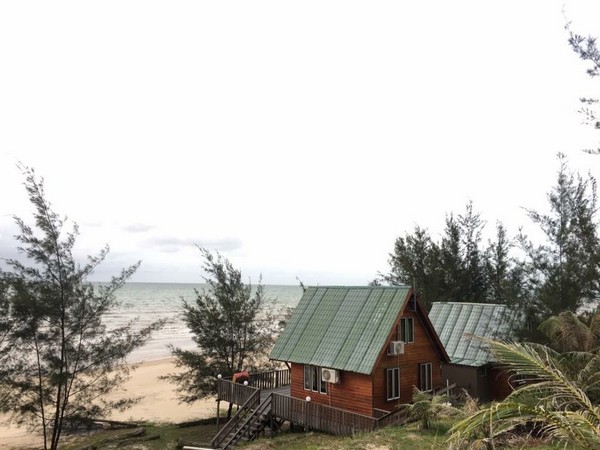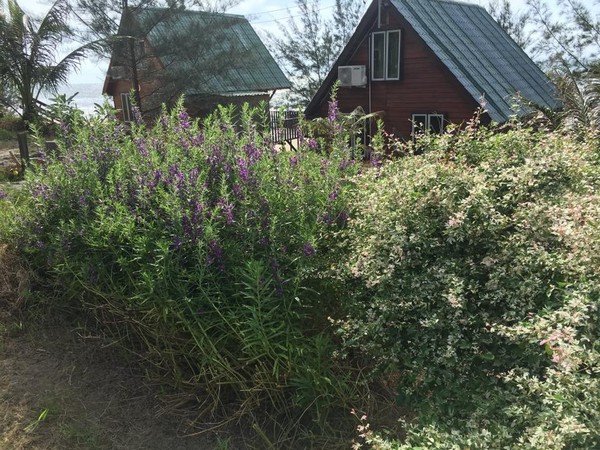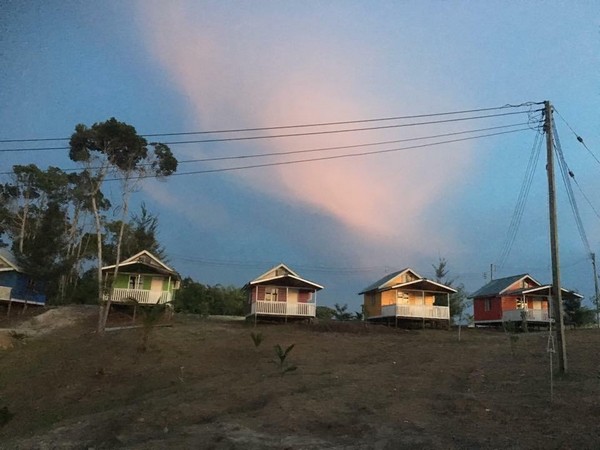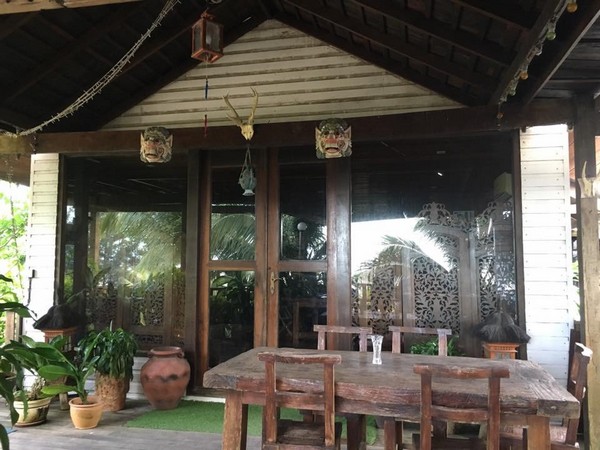 TIM'S SEASIDE HIDEOUT CAFE & LODGE
RESORT RULES
Guests who will check into our resort to take careful note of the Resort Rules.
The Management reserves the right to request guests to leave the premises if they failed to comply with the following rules and regulations:
1) Strictly no squatting is allowed in the chalets.
2) Security/Booking deposit is compulsory, will be returned within 24 hours after check out subject to satisfactory chck out meaning no loss/damage to Resort properties and cleanliness maintain both inside & outside the chalets.
3) Registration is compulsory and at least one guest IC/ID is required. Check in will be declined without IC/ID.
4) No littering allowed inside or outside the chalets. Trash bins are placed at strategic places inside and outside the chalets. Ash trays are placed outside the chalets , no smoking allow inside the chalet.
4) Guests who misbehave or not conducting themselves in proper manner will be asked to leave the premises.
5) No bonfire allowed around the compound of chalet. Limited bonfire is permissible on the beach front, subject to approval from the management.
6) Strictly no cooking with fire stove inside the chalet. Electrical appliances like rice cooker is allowed.
7) Resort gate will be clocked at 10 pm. Guests are reminded to return to the Resort on or before 10 pm.
8) In house guests who plan to invite friends or families for BBQ or party must register them at the Office and require to pay RM12/pax or RM50/car.
9) Guests will be liable for any damages or loss to the chalet/ or stuffs inside the chalet.
9) Limit your noise level and respect your fellow guests who yearn for Tranquillity.
10) Any activities guests undertake at the Resort is at your own risk. You are free to walk, play on the beach or take a splash in the sea, which is entirely at your own risk.
11) The Management will not be liable for any activities you undertake at the Resort. However, The Management will endeavour to keep the venue safe especially for young kids.
Thank you for your kind attention.
The MANAGEMENT
of TIM'S SEASIDE HIDEOUT CAFE & LODGE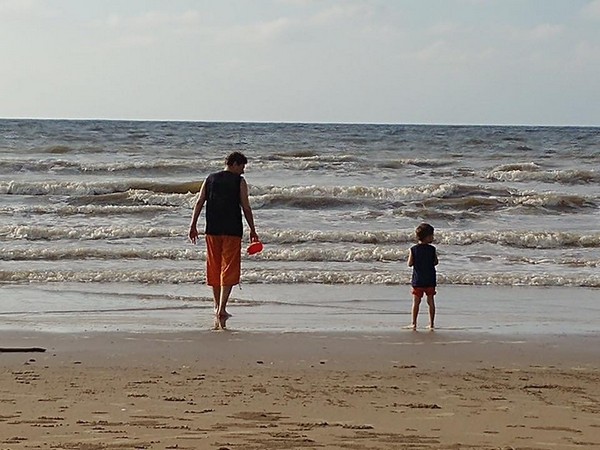 Yum! For those who like spicy Sulawesi delicacy.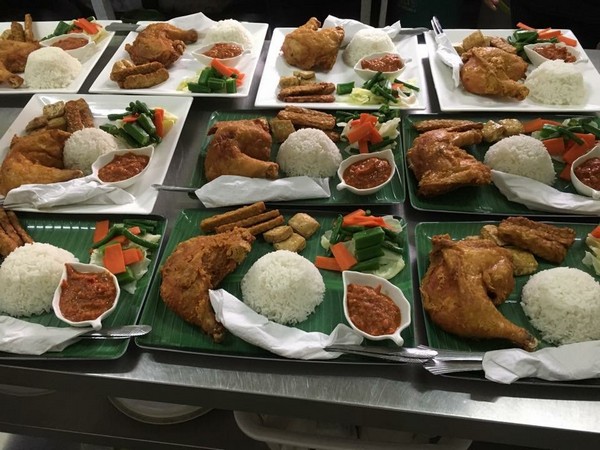 Lelapan fish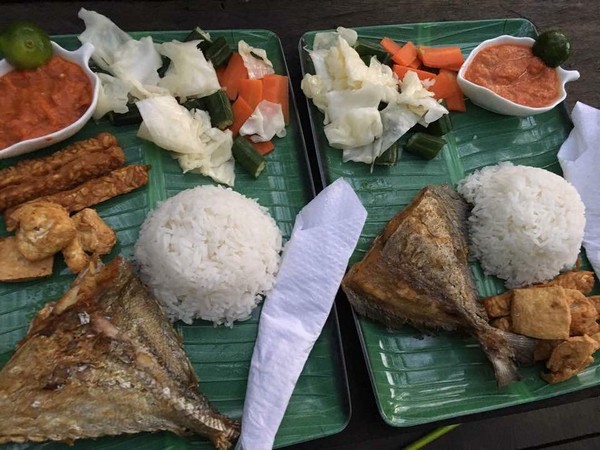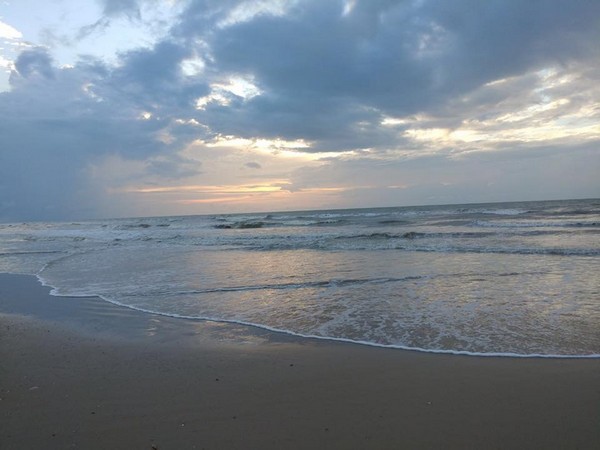 Enjoying sunset view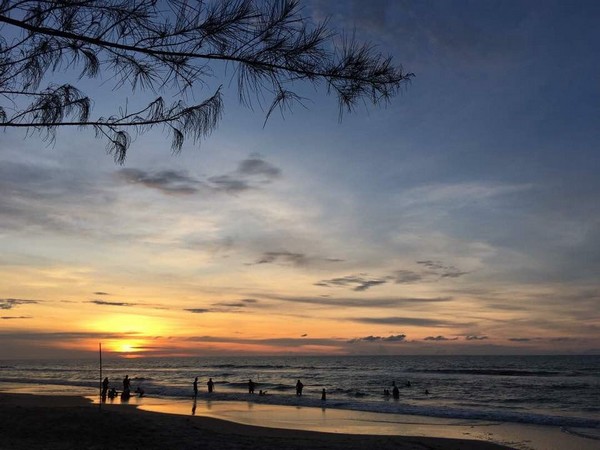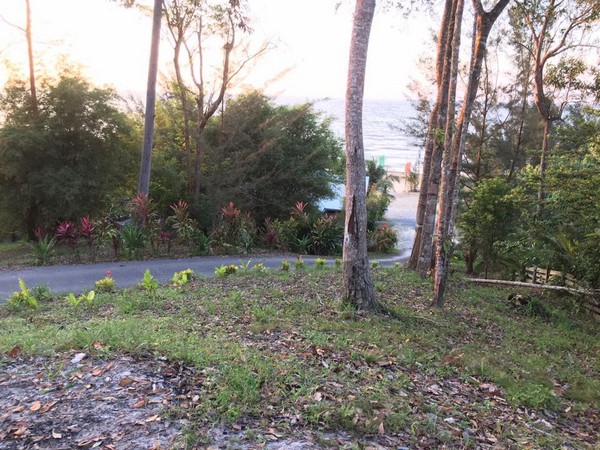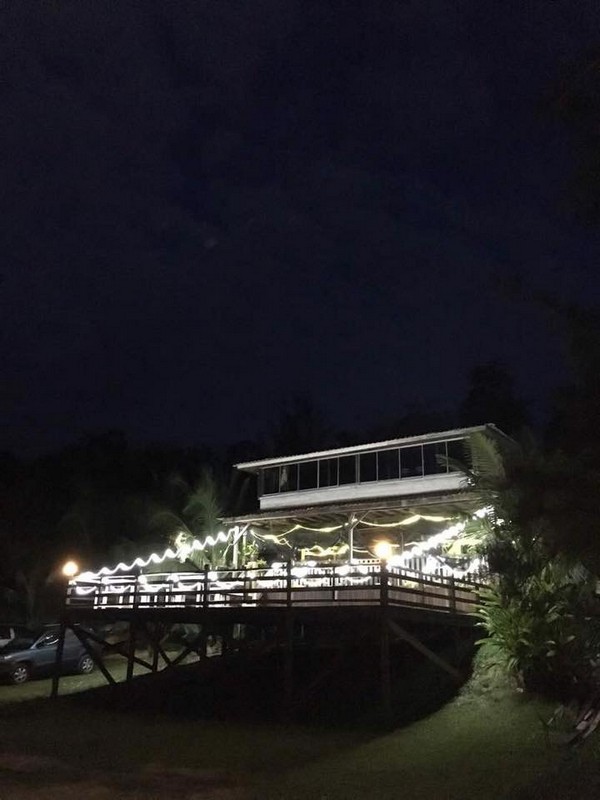 1) 4-pax Chalet with 1 queen & 2 single mattresses on bunk beds.
Rate@RM250/night( weekend/ public & school hols).
Available unit is 4.
Booking/Security Deposit : RM150/chalet
Breakfast for 2.
This is best for 2-pax & the rate for 2 is RM210.00/night ( during weekend/public/school hols). Breakfast for 2.
3)6-pax hilltop chalet with 2 queen & 2 single mattresses on bunk beds.
Rate is RM270-RM320/night ( weekend/ public & school hols).
Available unit is 9.
Booking/Security Deposit : RM150/chalet
Breakfast for 3.
Parking by chalet, big balcony/deck with a view.
Best for Twin-sharing.
4)2-Rooms Homestay:
with a king size & Super King size beds @RM600/night ( weekend/ public & school hols).
The chalet has kitchen, dining & living areas. There are 2 toilets.
1 available unit .
Security Deposit: RM300/chalet
Breakfast for 4.
5)Chalet for 10-pax:
with 2 queens & 6 singles. It's double-storey & fully-aircond with water-heater. There's a jug kettle.
The rate RM650/night ( weekend/ public & school hols).
It's located right on the beach with big balcony.
2 available units.
Security Deposit: RM300/chalet
Breakfast for 5.
6) 3-rooms chalet @rm450/night can accommodate 8-10 pax. Breakfast for 4.
Additional breakfast is RM12/pax for in-house guests
Bedding set for rent @rm35/set c/w single mattress, comforter & pillow with covers.
Every chalet occupant is require to pay deposit to block date & for security against damage/loss to resort properties & to maintain cleanliness (satisfactory check out). Satisfactory check out means no loss or damage inside or outside chalet to resort properties, as well as trash are properly managed.
weekdays rate is minus weekend's rates by RM50/night, for all types of chalet. With complimentary breakfast.
We have cafe serving both local & western dishes at reasonable price. Our cafe is open as follows;
*Weekends/Public Hols at 8.30 am – 10 pm.
*Weekdays at 10 am – 8 pm.
Check in guest/s entitle to 8% discount at our cafe.
Our cafe will be closed on every Monday. Check in guests need to arrange for meal outside or do BBQ .
In-house Guests who invited friends or family for Bbq/party will need to report to the office for registration & pay RM12/pax & kids RM6/Pac. Kids 6 years old & below is free.
Our facilities are meant only for our customers.
All will be provided with BBQ pit foc. However, guests have to bring own charcoal & BBQ grill/wire mesh. Guests will manage ( pack & dispose) all trash generated from F&B brought in by them. In the event guests left behind empty bottles & cans as well as left-over food from BBQ, the security deposit will be retained until the problem is resolved with top management. Plz take note.
No pet allowed. Sorry.
#Customers who book to Bbq only will pay RM15/Pax. Minimum rate is RM200 & they may use the Beach Shade & other facilities like parking, wash rooms, toilets, etc. Kids age 6 years & below free. Only Bbq pit will be provided. Bring your own F&B, charcoal & wire mesh and trash bag. All trash must be packed & removed from the resort.
We have the followings for rent:
1. Single stove with gas (1) – RM25.
2. Steam boat (with gas) – RM50.
3. Bedding set – RM35.
4. BBQ accessories, cutleries.
RM1/each.Deposit is RM50.
5. Cooler box – rm10/box ( ice not
provided).
We can be reached via Whatsapp
@ 0138865118 /01151815932
Thank you