Following is a list of 2013 public holidays in Malaysia for the state of Sarawak showing in the format of 2013 calendar chart.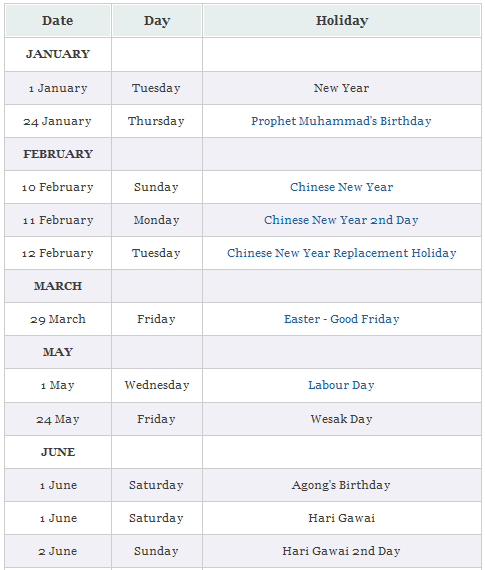 In summary, there are 18 public holidays for Sarawak in the year 2013 including the replacement holidays. Sarawak has two special festivals which is different to the states in Peninsular Malaysia (Good Friday on the 29th March 2013 and Hari Gawai on the 1st & 2nd June every year). However, school holidays are not the same with public holidays.
For those searching for Deepavali holiday, it is on the 3rd of November 2013 (Sunday), unfortunately, it is not a public holiday in Sarawak yet.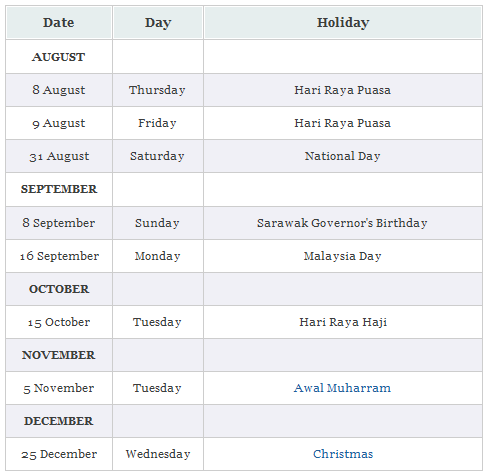 Summary of Public Holidays 2013 for Malaysia, Sarawak State:
1 January (Tuesday)- Happy New Year
24 January (Thursday)- Prophet Muhammad's Birthday
10 February (Sunday)- Chinese New Year 1st day
11 February (Monday)- Chinese New Year 2nd day
12 February (Tuesday)- Chinese New Year Replacement holiday
29 March (Friday)- Good Friday/ Easter day
1 May (Wednesday)- Labour day
24 May (Friday)- Wesak day
1 June (Saturday)- Agong's Birthday
1 June (Saturday)- Hari Gawai 1st day
2 June (Sunday)- Hari Gawai 2nd day
8 August (Thursday)- Hari Raya Puasa 1st day
9 August (Friday)- Hari Raya Puasa 2st day
31 August (Saturday)- National day
8 September (Sunday)- Sarawak Governor's Birthday (TYT)
16 September (Monday)- Malaysia Day
15 October (Tuesday)- Hari Raya Haji
5 November (Tuesday)- Awal Muharram
25 December (Wednesday)- Merry Christmas