Join Pizza Hut Spend & Win contest to win great prizes.
Grand Prize x 1 winner:
Home Make-Over prize worth RM25,000.
First Prize x5 winners: One (1) unit 40" 3D LED TV each.
Second Prize x5 winners: One (1) unit Samsung Galaxy S III each.
Third Prize x5 winners: One (1) unit The New iPad each.
Consolation Prize x 20 winners:
Pizza Hut vouchers worth RM500 each.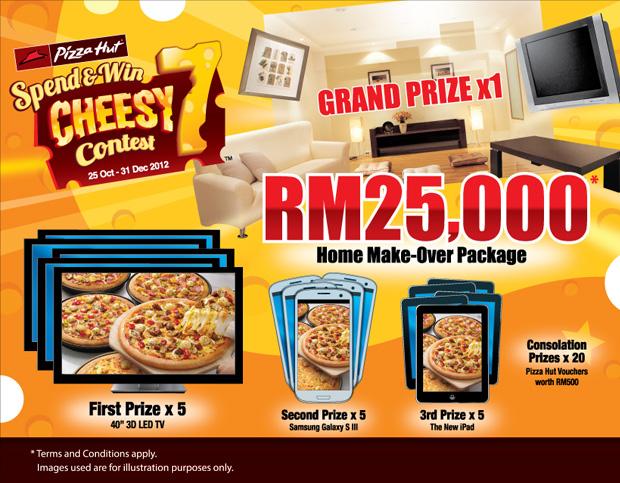 How to participate:
Step 1:
Enjoy the Cheesy 7 Reloaded Pizza (a'la carte or combos)
Just spend a minimum of RM30, inclusive of any Cheesy 7 Reloaded pizza (a'la carte or combo) to qualify.
Every RM30 purchase= 1 entry. (eg: RM90= 3 entries)
Step 2:
Get your Original Pizza Hut receipt stamped from Pizza Hut's staff and complete the details at the back of the receipt.
Step 3:
Drop the receipt in the Contest Drop-in box.
The contest period is available from 25th October 2012 to 31st December 2012 (inclusive both dates). This contest is valid for all participating Pizza Hut outlets, except for PHD outlets. Terms & Conditions apply.