Want to know the latest drawing results of the numbers you've bought? Here is a great website provides you fast and simple way to view your drawing number results, so that you won't have to visit the drawing websites one by one which can waste you a lot of time. Drawing results checking in one single page including special draws date can be found from 4d88. Hope you'll enjoy!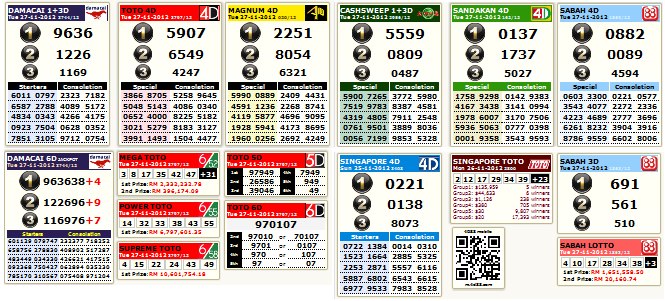 The available drawing company's websites are as follow:
Malaysia's Magnum 4D results. DAMACAI 1+3D, DAMACAI 6D JACKPOT, CASHSWEEP 1+3D.
SPORTSTOTO 4D, 5D, 6D, Mega Toto 6/52, Power Toto 6/55 and Supreme Toto 6/58.
SANDAKAN 4D, SABAH 3D, 4D and SABAH LOTTO as well as SINGAPORE 4D and SINGAPORE TOTO results.
Besides, past results are also available.