Nagaliar is a restaurant selling Chinese style nasi lemak in Miri. Customers need order their nasi lemak using self service at the counter either you want to eat at the restaurant or take away. Usually, it seems to serve mainly office workers around the town area during the lunch time.
They offers Nasi Lemak Regular with Wing or Thigh, Nasi Lemak Special, Nasi Curry Chicken, Nasi Curry Lamb while side order for Chicken Drumstick, Wing, Thigh, Curry lamb, Curry chicken and vegetables are also available. It is a restaurant selling mainly on local Malaysian delicacies. Since the weather in Miri is always hot, therefore after eating a plate of nasi lemak, try some of the desserts to cool down your body temperature is the next thing to do. Desserts like bubur chacha, green bean soup and red bean soup can be found there. You should not miss to try their bubur chacha. Recommended!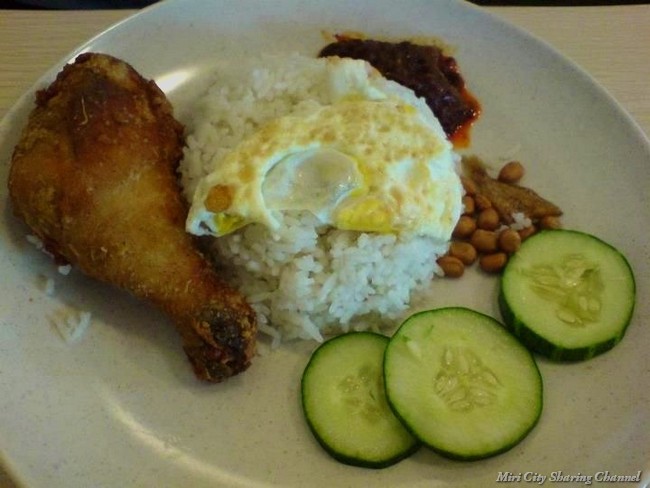 The delicious part of a nasi lemak is the sambal of course with the santan cocounut milk rice, serves together with the peanuts, ikan billis, cucumber slices, an egg and fried chicken piece. You can get this nasi type of lemak from Naga Liar Restaurant at Jalan Merpati opposite Imperial Mall in Miri town.