Super exaggeration! Malaysian men's restock 10,000 cans of Sambal in Shopee and habis in 3 minutes! His Mobile phone orders keep ringing! (Video included)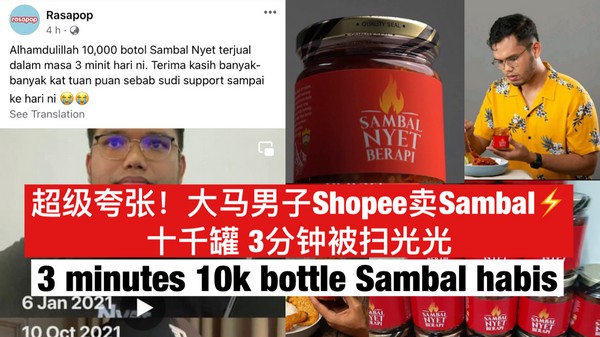 A Malaysian man Khairulaming sold out 10,000 cans of Sambal NYET Berapi in Shopee in just 3 minutes!
Many netizens complained that they could not get this Sambal in Shopee, and even questioned that he did not put Sambal sauce on the shelves. Therefore, he recently filmed a video to confirm that he really has replenishment. However, this video once again shocked everyone's new world!
That's right! You are absolutely right! The Malaysian man was quasi-replenishment of Sambal sauce at 12 o'clock in the morning on 10.10. In just 3 minutes, 10,000 cans of Sambal sauce were swept away!

What's more, the most fascinating thing in the film is the sound of a Malaysian man receiving an order on the phone and accepting a notification. It's crazy!
It feels like the phone is about to crash! Netizens left a message saying: "This is the voice of money"!
If you want to eat Sambal NYET Berapi, you really need to grab it. Slow your hands and it will disappear! I can only say that it's amazing! admire!
超级夸张!大马男子Shopee卖Sambal 3分钟10千罐被扫光光了!手机订单响不停!(内有影片)
位大马男子 在Shopee专卖 Sambal NYET Berapi ,短短3分钟10千罐被扫光光了!
很多网民抱怨一直买不到Sambal,更质疑他没有上架Sambal酱,因此他近日拍摄了一段影片,证实他真的有补货。但是,该段影片却再一次震撼大家的新世界!
没错!你绝对没有看错!大马男子在10.10 早上12点Sambal酱准准补货,才短短3分钟的时间,10,000罐的Sambal酱就直接被扫光光了!
而且,影片中最吸引人的一点还有大马男子电话收到订单的声音以及接受notification的一幕,实在太疯狂了!
感觉电话差一点就要奔溃了啦!网民纷纷留言表示:「这是钱的声音」!
要吃到 Sambal NYET Berapi 真的要用抢的,手慢一点点就没有了!只能说,太厉害了啦!佩服