Nasi Lemak RM 1 found selling at Padang Permyjaya, Miri. Started at 6am. Eco-friendly chili paste. Only 30% spicy so that the rest can eat.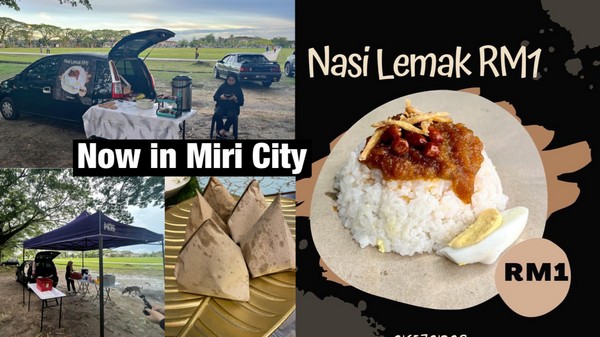 Nasi Lemak is being sold at this HUMBLE booth in Miri for just RM 1! Nasi lemak in a little package containing pusuk, kacang, sambal, and telur.
Boiled egg, sambal, peanuts, anchovies, and fragrant rice.
Because their Nasi Lemak are frequently SOLD OUT, arrive early and be patient. They also sell fried noodles for RM 1. Since instant coffee, boiling water, and paper coffee cups are available, you can also have a cup of COFFEE for RM 1 while waiting.
Location:
Nasi Lemak RM 1
Padang Permyjaya, 98000 Miri,
Sarawak, Malaysia.
Opening Hours:
Monday-Saturday (6.00am till habis)
Sunday (Closed)
(Images: Awangku Hazig Asyraf, Zaria Zasya D'Cakes)