Oppa Starbucks Style Coffee Sexy Latte
Recently, there was a news regarding Starbucks unveiled its new logo with the intention to move beyond its core product, simplicity and elegance of the new design, it takes a while to update the new logo for 16,500 global stores worldwide respectively.
Surprisingly you'll probably haven't see the Gangnam style Starbucks logo on the cup of your favorite Starbucks beverage. This was probably a Photoshopped version photo where you can see a hilarious Oppa Starbucks Style logo after implementing PSY dancing Gangnam style to the original logo.
No comments yet.
No trackbacks yet.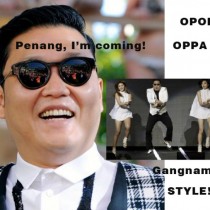 about 4 years ago - No comments
Popular Korean singer PSY, will be coming to Penang, Malaysia during the Chinese New Year, at least 60,000 people with crazy jump "horse dance" by the moment! "Guangming Daily" discovers the exclusive news swept the world of horse riding dance Korean singer PSY, traveled to Shanghai, China in this year's New Year's Eve as Dragon…