Fresh Sugar Cane Juice in Miri Open Air Market
Even though sugarcane juice is on package nowadays produced by a softdrink company called Yeo's, there are quite a number of places to drink the fresh sugarcane juice in Miri. The most popular ones are those which already established themselves in the open air market Miri and have their very own following of customers.
Among them, I consider one of the stall to be one of the more interesting ones, because the sugarcane can be pretty much found squeezing on the spot there. If you are wondering where to drink the fresh cold sugarcane juice in Miri, come to the open air market in Miri town to taste it. Sure you will love the taste especially during the hot day, it's only less than RM2 per package or per glass.
No trackbacks yet.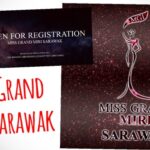 about 3 months ago - No comments
A very warm greetings to everyone, Our company Brenda and Brandan's Art Paradise are proudly to officially announce that we are selected to be the main organizer of Miss Grand Miri Sarawak for the coming year with support of GPS, own by Gina Regina Patrick ( Gina Production Studio ) and affiliate by Miss Grand…