Don't Miss the Satay at Tanjong Lobang Miri
Tonjung Lobang is another recreational place for the people in Miri. As famous and crowded as they could be especially during weekends and school holidays. The reason is because are a lot of local stalls serving local dishes such as satay, fried rice, BBQ chops, seafood, coconuts, rojak, ice kacang, etc. It is worth coming for if you are really desperate for satays. If you do not have much time to spend in Miri, my advice is to come here to enjoy its satay.
Dip with the oily and diluted peanut sauce, a few slices of cucumber for refreshing yourself, enjoy the satays with others while watching the sunset at Tanjong Lobang Beach.
No comments yet.
No trackbacks yet.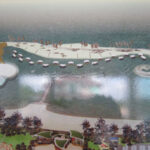 about 3 years ago - No comments
In order to transform Miri into an ultra modern recreational, shopping, dining, entertainment and residential area in the state, another Man-made Seahorse Island will be constructed in Miri City's Brighton beach. About Miri City's man-made Seahorse Island: Located 800 metres from Brighton Beach. A man-made island, shaped like a seahorse is developed by Episo Group…