The voting date for Malaysia General Elections (PRU-13) is fall on 5th May 2013, but have you checked where to vote in the Malaysia General Elections 2013?
Currently, you can hear many political talks at the coffee shop discussing the current election news, it's a hot topic for the public. So, on the election date, don't forget carry out your responsibilities as citizens in a general election 2013. After all with the efficiency and speed of the present technology, the way to check the EC (Election Commission) PRU 13 information and public vote statistic of PRU 13 has becoming much easier today.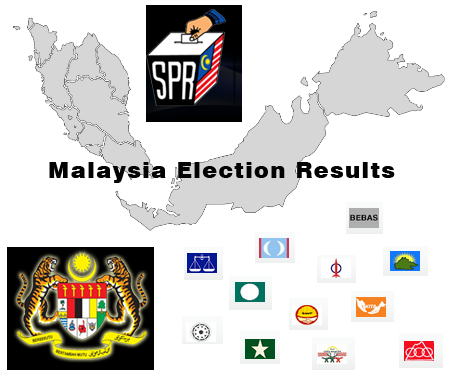 In addition to be able to check the EC (Election Commission) through online, you can also check through SMS and phone.
Are you eligible to become voters in the general election 2013 (PRU 13)?
Check your electoral roll details for 2013 SPR Malaysia via SPR website daftarj.
Where to Check 13th Malaysia General Election Results and latest News?
CHECK RESULTS of NOMINATION CANDIDATE MALAYSIA 13th GENERAL ELECTION
KEPUTUSAN (PRU KE-13): resultpru13 and keputusanspr.
Malaysia 13th General Election official website
Portal Rasmi Pilihan Raya Unum PRU-13 (SPR)
13th MALAYSIAN GENERAL ELECTION NEWS
The Star Online Elections NEWS
Check election results and news By State including Federal Territory(Kuala Lumpur, Putrajaya & Labuan), Johor, Kedah, Kelantan, Melacca, Negeri Sembilan, Pahang, Perak, Perlis, Penang, Selangor, Terengganu, Sabah and Sarawak.
Malaysian General Election, 2013
Wikipedia Malaysia Election Information
马来西亚全国大选成绩 (国会议席)和(州议席)
Cari Malaysia Undi Results
Total Contested Parties in Malaysia 13th General Election