Hi Miri people! "Deckworks Events & Entertainment and LOL Events are proud to present you a wonderful evening of stand-up comedy by Kumar in his nationwide tour KUMARSUTRA on 23rd September 2017. Tickets can be bought online from www.kumarsutra.com or from official venue ParkCity Everly Hotel, Miri.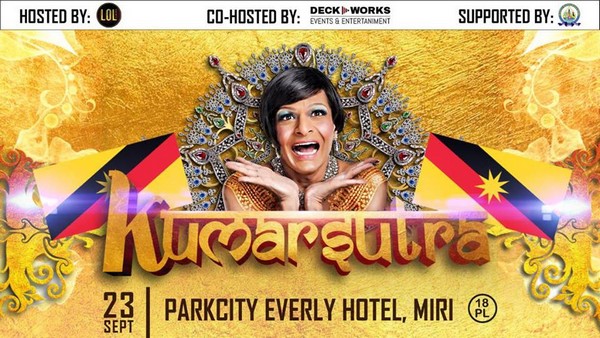 Hurry! the giggles are selling out fast

Contact us in Miri at [email protected] for your one-stop event service"
Details About this event:
Kumar is hailed as one of South East Asia's most iconic and respected performing artist and a brilliant stand-up comedian. In the past two decades, Kumar has proven to be a multi-talented performer, entertaining millions as a comedian, TV host, actor, dancer, director and author. Widely known for poking fun at all things controversial, Kumar's caustic remarks, based on everyday observations, are bound to have audiences bowling over with laughter!
After 2 sold out shows in the LOLFEST 2017, LOL Events is bringing Kumarsutra to the 7 cities across Malaysia in the Kumarsutra Nationwide Tour 2017. A show that is a culmination of all of Kumar's talents, integrating all the elements that have made Kumar famous.
You can expect to see Kumar fuse together the traditional and modern aspects of performing arts that have been perfected over the years, bringing you a show that has been delicately put together with the intention to dazzle and amaze audiences, transcending across age, gender, and race.
For the first time ever, Kumar will be performing in Miri! Don't miss this one of a kind show at the Parkcity Everly Hotel.
Date: 23 September 2017
Time: 8:30pm
Tickets: www.ticketpro.com.my
Admission: 18+

Log on to www.ticketpro.com.my to grab your ticket now!
https://www.facebook.com/kumarsutratour/
Or alternatively, you can purchase your tickets via any of the Ticketpro outlets, or via the Ticketpro Call Centre by calling: +603 7880 7999.