The construction of Curtin University Sarawak Campus's Chancellery Building is the sign of expansion of its campus infrastructure and facilities in preparation for next phase of growth over the next three to five years where the student population is expected to surpass 5000. It is a RM10 million state-of-the-art Chancellery, with a 400-seat lecture theatre, meeting & training facilities and also a new centre of the campus' administration.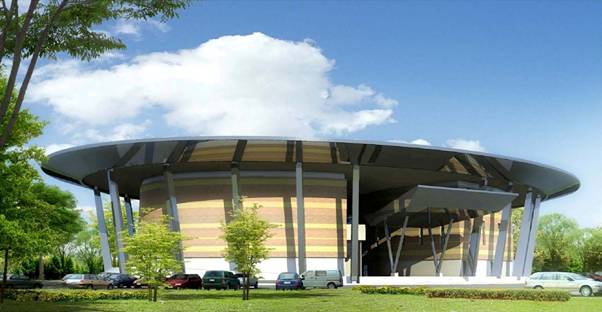 The building is like a Roman Colosseum. It also has spacious atrium at the heart of the building separating the administrative block and lecture theatre. Thus, giving a shaded and cool environment for having small events, especially for students, staff and visitors to lounge and relax.
The project is designed in energy-efficient and environment-friendly condition with a high arching roof and large pane windows strategically placed around the building in order for maximum sunlight to penetrate into the interiors and thus saving the costs of energy.
Artistic and reality look at the construction progress for the Chancellery Building