For the 12th Sarawak state election, the Election Commission (EC) has selected 18th December 2021 as the polling day. On 6th December 2021 will be the Nomination Day, and early voting will begin on 14th December 2021.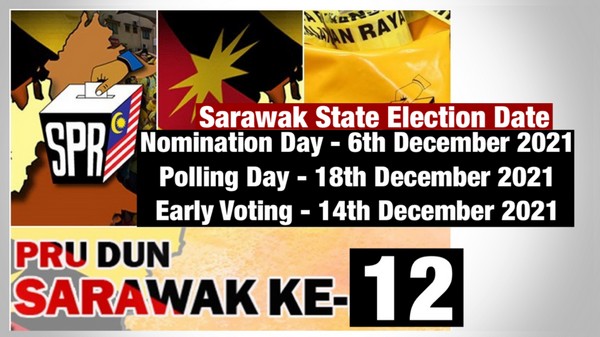 To assist with the Sarawak state election process, the EC has elected 82 returning officers and 249 assistant returning officers. The state election will be held using the Supplementary Electoral Roll of the Second Quarter of 2021, which was updated on November 2, 2021.
There are 1,252,014 voters on the electoral roll. The Sarawak State Assembly, which has 82 seats, was set to be dissolved automatically on 7th June 2021.
Malaysia's proclamation of a state of emergency in response to the Covid-19 outbreak, however, prevented the Assembly from dissolving automatically. On November 3, Istana Negara stated that the Yang di-Pertuan Agong had agreed to lift Sarawak's state of emergency, with Chief Minister Tan Sri Abang Johari Openg declaring the state assembly's dissolution in Kuching on November 5.
Sarawak 2021 election date is finally confirmed!
Nomination Day – 6th December 2021
Polling Day – 18th December 2021
Early Voting – 14th December 2021
Waiting for the 2021 Sarawak State Election Results!