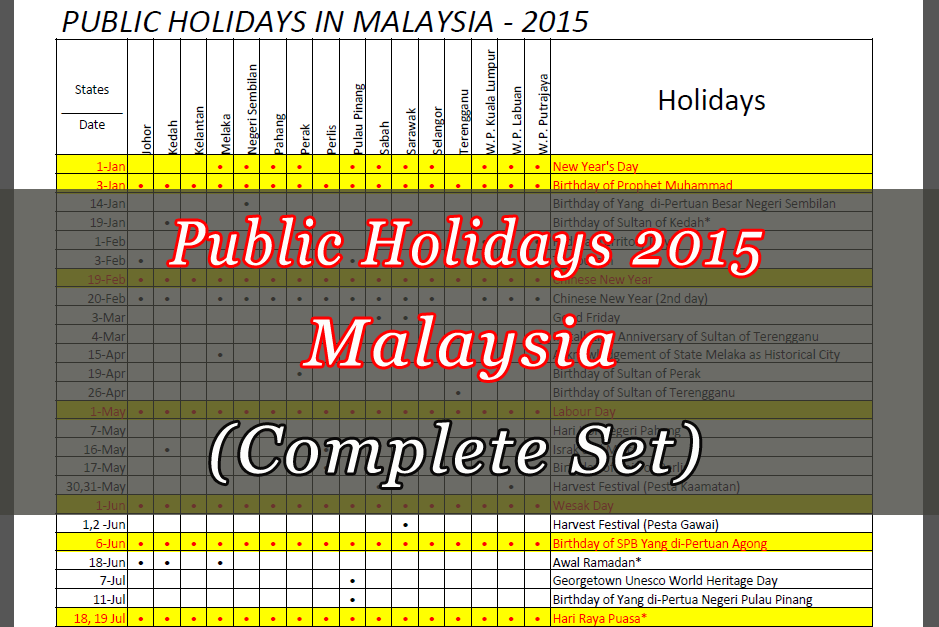 Alright, by the end of every year before another new year come, you know the drill. So, let's just skip ahead to see the complete public holidays calendar in the year 2015 that we are going to share with you today. As usual, this round of calendar we will be showing you the whole public holidays in Malaysia, including states holidays and national holidays. An Awesome source overview of one single page handy holidays calendar for you to plan your next coming annual leaves, school holidays and vacations.
Public Holidays for 13 States and 3 federal territories in Malaysia:
Johor, Kedah, Kelantan, Melaka, Negeri Sembilan, Pahang, Perak, Perlis, Pulau Pinang, Sabah, Sarawak, Selangor, Terengganu, W.P. Kuala Lumpur, W.P. Labuan, W.P. Putrajaya.
Download and print the 2015 Malaysia Public Holidays Calendar template in PDF format Single Page here. Alternatively you can (Right click and save as).