Our Daily Bread Miri's Triple Cheese Pizza
When cooked on the grill differently, a normal pizza becomes a gourmet affair. This pizza features distinctly three different cheeses with golden brown colour crust. So chewy and yummy! You can get it from Our Daily Bread, a Bakery and Brasserie shop in Miri City at Riam Road Commercial Center.
Serve with a glass of Vanilla Milkshake. Nice!
No comments yet.
No trackbacks yet.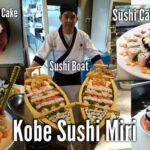 about 1 month ago - No comments
Sushi cake and sushi boat! Kobe Sushi is the newest Japanese Restaurant in Miri Sarawak, if you're craving for authentic Japanese food,feel free to visit us. Arigatou Gozaimasu! Japanese Pizza are also available. Address: Lot 2515 1st Floor , Block 5 Mcld Bldg, Boulevard Commercial Ccnter, Miri Sarawak 98000 Miri, Sarawak Call 085-322 099 (Images…