Everyone remember to check in online, otherwise, if you go to the counter, a purple colour "Rm" will fly away again.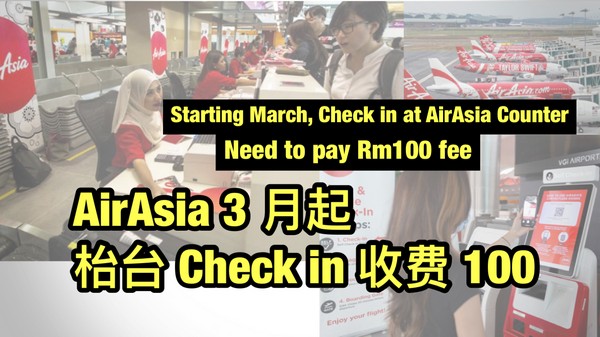 There is always a charge at the Air Asia check in counter at the airport. Previously, the check-in fee for domestic flights was RM20, and the check-in fee for foreign flights was RM30.
Now Airasia has raised the price again, raising the check-in fee to RM100 at the counter, which will be implemented on March 1.
Although the fee has increased, it is still free for everyone to use the Airasia App or self-service kiosk to check in.
However, you can still waive the fee if you go to the counter to check in, including:
– Senior people over 70 years old;
– Solo passengers aged 12-16;
– Passengers with reduced mobility;
– Situations where the Kiosk machine cannot be used;
– System error and unable to register;
– Passengers who are already registered but want to reprint their boarding ticket stubs;
– Passengers travelling with infants under 24 months old;
– Passengers who need to purchase seat upgrades or who want to pay extra for other passengers;
– Passengers in luxury cabins;
– Frequent flyer;
– Passengers booked by the government;
– BIG Platinum and BIG BLACK members.
I just hope that the airport can put more Kiosk machines for everyone to print boarding pass and luggage tag, so that everyone does not have to wait in long lines.