Are you seeking for the holidays calendar of the year 2014?
Let's take a full stroll through the public holidays among the 12 months in the year 2014 to see these how can you plan your continuous holidays from your annual leaves.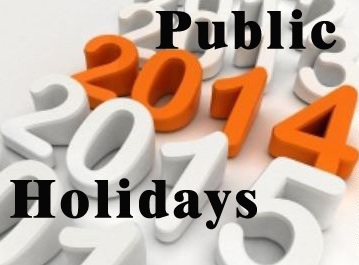 For school holidays year 2014, we will find it and share with you later.
JANUARY
1 Jan (Wed)     Happy New Year day (All except Johor, Kedah, Kelantan, Perlis & Terengganu)

14 Jan (Tue)     Prophet Muhammad's Birthday/Maulidur Rasul (National)
14 Jan (Tue)     Yang di-Pertuan Besar Negeri Sembilan's Birthday (Negeri Sembilan only)
15 Jan (Wed)     Replacement holiday Yang di-Pertuan Besar Negeri Sembilan's Birthday (Negeri Sembilan only)
19 Jan (Sun)     Sultan of Kedah's Birthday (Kedah only)

Jan (TBC)     Thaipusam day (Kuala Lumpur, Putrajaya, Johor, Negeri Sembilan, Perak, Penang & Selangor only)

31 Jan (Fri)     Chinese New Year (National)
FEBRUARY
1 Feb (Sat)     Chinese New Year 2nd Day (National except Kelantan and Terengganu)

1 Feb (Sat)     Federal Territory Day (Federal Territory of Kuala Lumpur, Labuan & Putrajaya only)
3 Feb (Mon)     Replacement holiday for Federal Territory Day (Federal Territory of Kuala Lumpur, Labuan & Putrajaya only)
MARCH
4 Mar (Tue)     Anniversary of Installation of Sultan of Terengganu (Terengganu only)
APRIL
15 Apr (Tue)     Declaration of Malacca as a Historical City (Malacca only)

18 Apr (Fri)     Good Friday (Sabah & Sarawak only)

19 Apr (Sat)     Sultan of Perak's Birthday (Perak only)
26 Apr (Sat)     Sultan of Terengganu's Birthday (Terengganu only)
MAY
1 May (Thu)     Labour Day (National)

7 May (Wed)     Hari Hol Pahang (Pahang only)

13 May (Tue)     Vesak Day/Wesak Day (National)

17 May (Sat)     Raja Perlis' Birthday (Perlis only)
27 May (Tue)     Israk & Mikraj (Kedah, Negeri Sembilan & Perlis only)
30 May (Fri)     Harvest Festival (Sabah & Labuan only)
31 May (Sat)     Harvest Festival (Sabah & Labuan only)
JUNE
1 Jun (Sun       Hari Gawai (Sarawak only)

2 Jun (Mon)     Hari Gawai (Sarawak only)

7 Jun (Sat)        Agong's Birthday (National)

29 Jun (Sun)     Awal Ramadan *  (Johor, Kedah & Malacca only)
JULY
7 Jul (Mon)        Georgetown World Heritage City Day (Penang only)
12 Jul (Sat)        Penang Governor's Birthday (Penang only)
15 Jul (Tue)     Nuzul Al-Quran (Kelantan, Pahang, Perak, Perlis, Penang, Selangor & Terengganu only)

28 Jul (Mon)    Hari Raya Puasa * (National)

29 Jul (Tue)     Hari Raya Puasa 2nd day * (National)
AUGUST
31 Aug (Sun)     National Day (National)
SEPTEMBER
13 Sep (Sat)     Sarawak Governor's Birthday (Sarawak only)

16 Sep (Tue)     Malaysia Day (National)
OCTOBER
4 Oct (Sat)      Sabah Governor's Birthday (Sabah only)

5 Oct (Sun)     Hari Raya Haji * (National)

6 Oct (Mon)    Hari Raya Haji 2nd Day * (Kedah, Kelantan, Perlis & Terengganu Only)
11 Oct (Sat)    Malacca Governor's Birthday (Malacca only)

23 Oct (Thu)   Deepavali (National except Sarawak & Labuan)

24 Oct (Fri)     Sultan of Pahang's Birthday (Pahang only)

25 Oct (Sat)    Awal Muharram/ Maal Hijrah (National)
NOVEMBER
11 Nov (Tue)     Sultan of Kelantan's Birthday (Kelantan only)
12 Nov (Wed)     Sultan of Kelantan's Birthday (Kelantan only)
22 Nov (Sat)     Sultan of Johor's Birthday (Johor only)
29 Nov (Sat)     Hari Hol Almarhum Sultan Johor (Johor only)
DECEMBER
11 Dec (Thu)     Sultan of Selangor's Birthday (Selangor only)

25 Dec (Thu)     Merry Christmas (National)
* indicates "Subject to change", TBC- To Be Confirmed