Museum of Modern Sarawak (MMS) or Muzium Moden Sarawak is a timeless jewel, an icon of Sarawak to be built by Naim Holding Berhad. Naim is currently one of Malaysia's top 20 property developers (The Edge Malaysia's Top Property Developers Awards 2014) & the ONLY East Malaysia-based developer award recipient.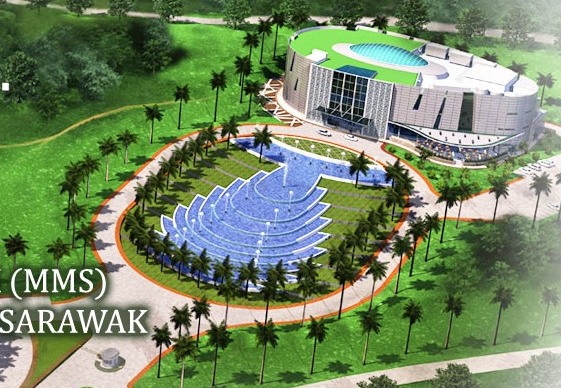 Naim has collaborated with the reputable PADI Gallery and Design from Singapore, a museum design specialist to build the state-of-the-art 'Museum of Modern Sarawak' (Muzium Moden Sarawak or MMS).
Previously, PADI was involved in numerous projects such as Maritime Museum, Singapore and Muzeum Adat (Negeri Sembilan), Muzeum Tekstile (KL), Gallery Perdana (Langkawi) and Cheng Ho Museum (Melaka).
Summary about Museum of Modern Sarawak:
Located on a hilly landscape, inline and directly facing the Dewan Undangan Negeri (State Legislative Assembly)
overlooking the beautiful cityscape of Kuching City
the museum will showcase an important aspect of Sarawak's rich history, namely the sacrifices of Sarawak's past and present leaders comprising of all Tuan Yang Terutama Yang di-Pertua Negeri Sarawak and Chief Ministers
showcase also clearly highlighted Sarawak's journey from what it was to its present position as an economic and development powerhouse
the result of the State's visionary leaders and their efforts for the rakyat
Museum of Modern Sarawak's Design & Features:
contemporary egg shaped 3-storey design
MMS will feature 9 galleries
including a special gallery showcasing the best collection of songs and records by Tan Sri Datuk Amar Dr P. Ramlee
a special collection of paintings by top Indonesian artistes
sustainable design components including natural lighting, environmental friendly cooling system and an energy efficient
envelope, and state-of-the-art audio and interactive elements