Miri City is a green vibrant city located just nearby the South China Sea. Let's have a sky view look on Miri City, from a small village became a city lifestyle that is in complete harmony with nature and development in just few years time.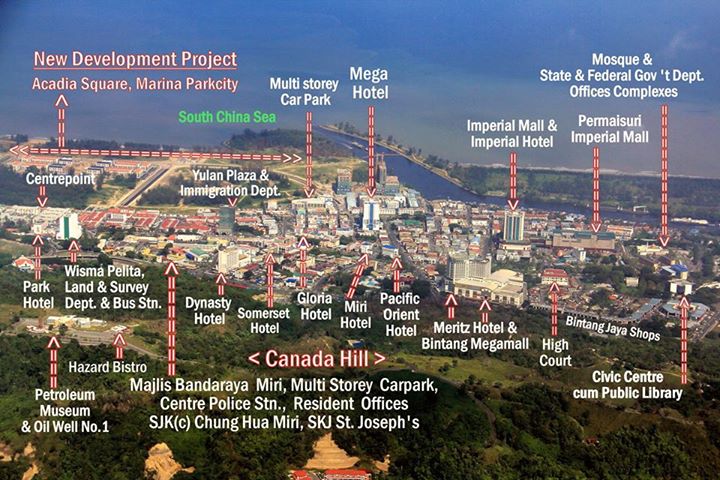 Let's see what's inside Miri City:
New Development Project at Acadia Square, Marina Parkcity
Centrepoint
YuLan Plaza & Immigration Dept
Multi storey Car Park
Mega Hotel
Imperial Mall & Imperial Hotel
Permaisuri Imperial City Mall
Mosque & State & Federal Government Department Office Complexes
Park Hotel
Wisma Pelita, Land & Survey Dept & Bus Station
Dynasty Hotel
Somerset Hotel
Somerset Hotel
Gloria Hotel
Miri Hotel
Pacific Orient Hotel
Meritz Hotel & Bintang Megamall
Miri High Court
Bintang Jaya Shops
Civic Centre cum Public Library
Petroleum Museum & Oil Well No.1
Hazard Bistro
Majlis Bandaraya Miri, Multi Storey Carpark, Centre Police Station, Resident Offices, SJK(c) Chung Hua Miri, SKJ St. Joseph's school
Another project missing in the picture in Miri City is the Wharf and 5 stars Pullman Hotel.
Photo submitted by Lee to Miri City Sharing Channel.