Good news! If you plan to plant Musang King in Miri City, this is the right article for you.
For durian lovers in Miri City, the Musang King durian needs no introduction. Recently, the price of Musang King has exceeded RM70 per kg in Miri compared to RM50 per kg in Peninsular Malaysia. This makes it twice or even three times more expensive that other durian varieties. Its deep-yellow sweet and creamy flesh, combined with a hint of bitterness, has made it the sought-after fruit not just among locals but tourists as well, hence its high price.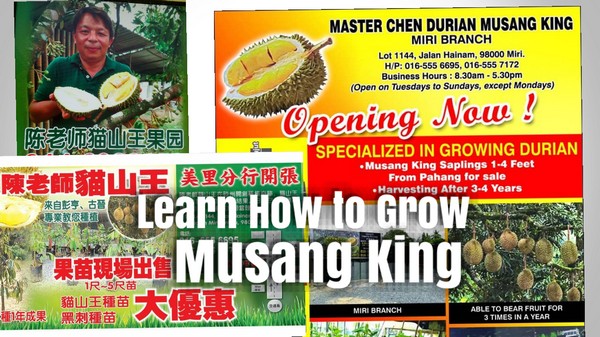 Those intending to cultivate Musang King may seek out David Chen, who is now offering Musang King seedlings (young trees) for sale at his nursery in Lopeng here. Chen, who hails from Kaohsiung, Taiwan said apart from sales, he also offers free consultation with regard to the cultivation and grooming of the seedlings. "This is especially useful, as farmers and planters need to equip themselves with the proper know-how in Musang King durian cultivation," he said.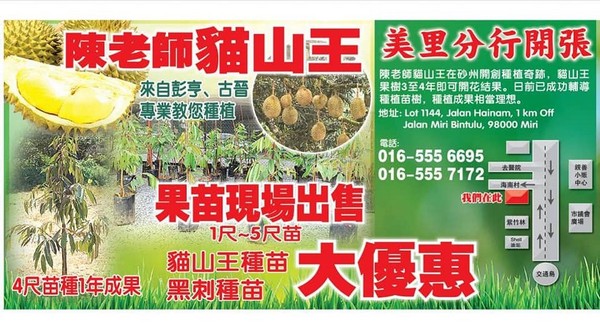 Chen, who is able to speak some Malay, is willing to provide his 'after-sales service' free of charge even if a customer buys just one seedling. He told the Borneo Post reporters that the Miri region is suitable for cultivation of Musang King durian due to a combination of fertile soil and annual rainfall not exceeding 2,000mm. Unlike local durian varieties, Musang King durian trees need fertilisers and pesticides (if necessary), which are also available for sale at his nursery.
A one-foot seedling sells for RM50, while a four-foot juvenile seedling costs up to RM400.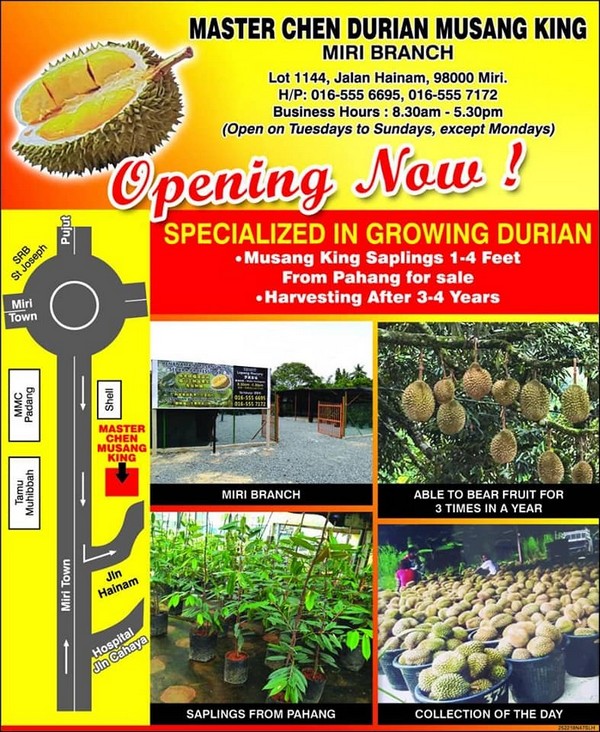 "Taking care of the small seedlings is akin to taking care of a baby, while the juvenile
seedlings are much easier to cultivate. Nevertheless, it all depends on one's preference," said Chen. Customers who purchase these seedlings, which come in polybags, will be shown how to transplant them in their farms.
Customers can visit his 'Master Chen Durian Musang King' nursery located at Lot 1144 Jalan Hainam in Lopeng here, from 8.30 am till 5pm. Chen also operates another nursery at Taman Phoenix in Batu Kawa, Kuching.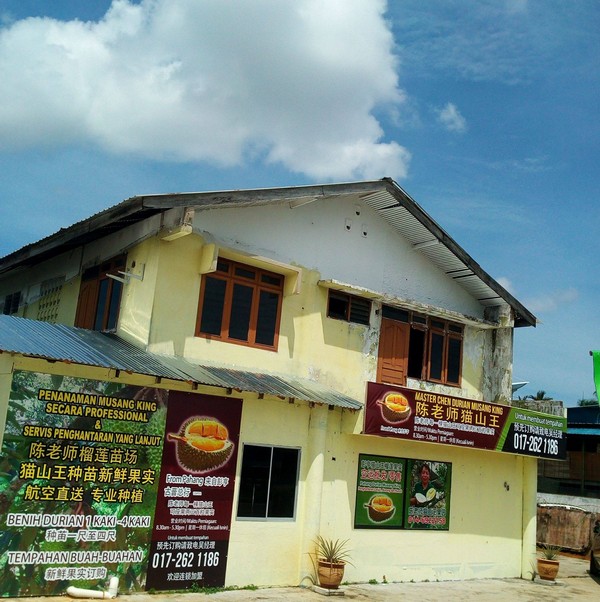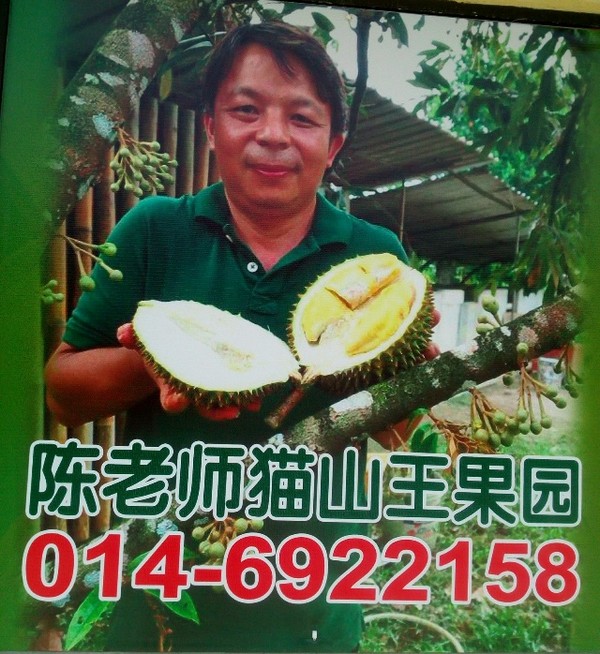 Musang King Durian Sapling for sale
开始预订【彭亨猫山王种苗批发零售】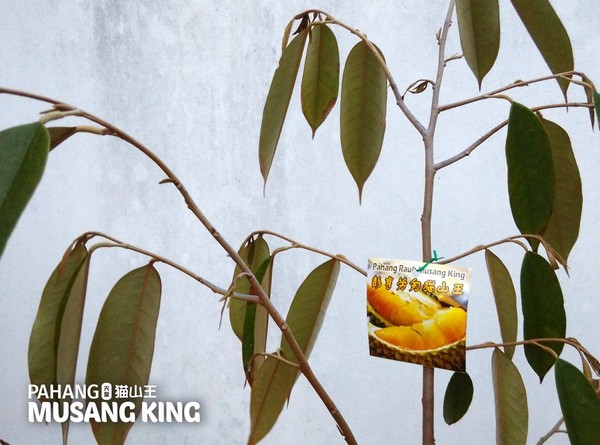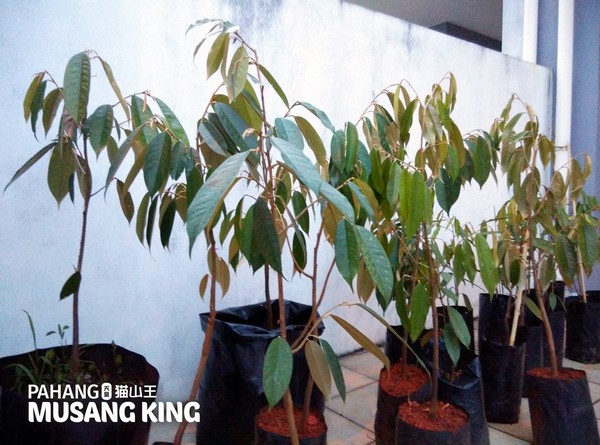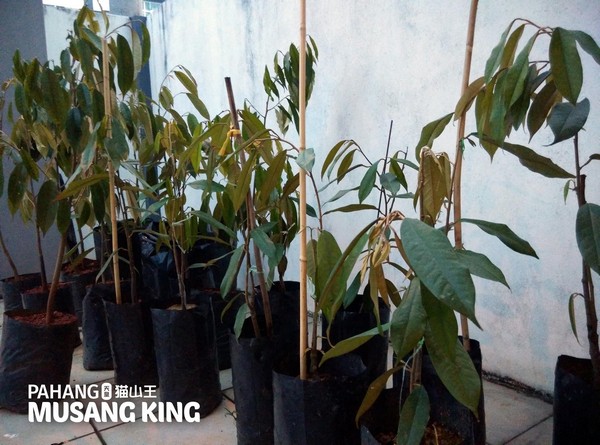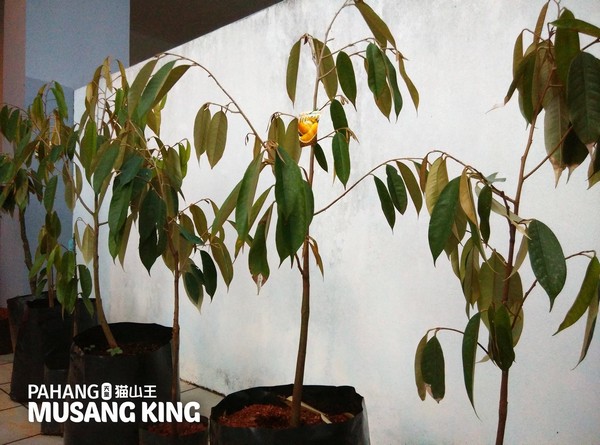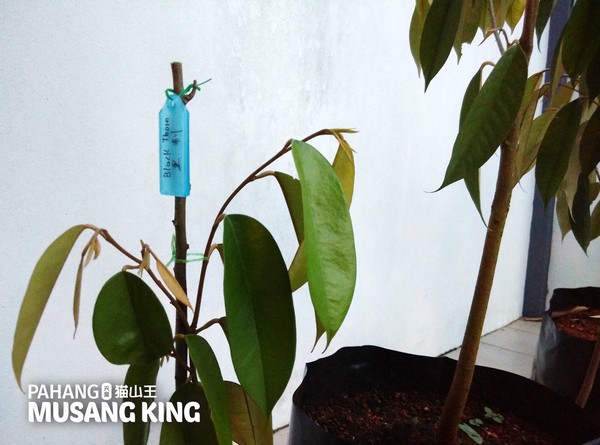 "With proper cultivation, a four-foot seedling can bear fruit in about three-and-a-half years. Matured trees could produce fruits as frequently as four times a year, instead of just during the fruit season." Chen added the Musang King seedlings could also be planted alongside local durian varieties to ensure a smooth pollination process and to achieve a better yield by not having to rely on a single type.
Commanding a high price perpetrated by its great demand, a Musang King tree could potentially generate a handsome income of RM30,000 a year, he added. Apart from Musang King, Chen also sells 'Duri Hitam' (Black Thorn) durian and guava seedlings.

For further information, call Charlene on 016-5556695 or Cynthia on 016-5557172.
(Articles via BorneoPost Online)
Specialized in Growing Durian!
陈老师猫山王 Master Chen Durian Musang King
Lot 1144, Jalan Hainam, 1 Km Off Jalan Miri Bintulu, 98000 Miri
016-555 6695
016-555 7172
Penanaman Musang King Secara Professional.
Musang King Saplings imported from Pahang.