Lite View 4 Terrace is an exclusive residential development with a significant character and style of its own. It's an innovative design bordered with spacious living area and modern lifestyle. Be inspired by a natural lifestyle and be whisked away to a bliss of green environment. Lite View 4 Terrace House is your haven of quiet serenity where life is living in balance with nature. Here, the architectural design emphasized on a simple, relaxing, comfortable lifestyle and most of all, contemporary. Selling price from RM428K.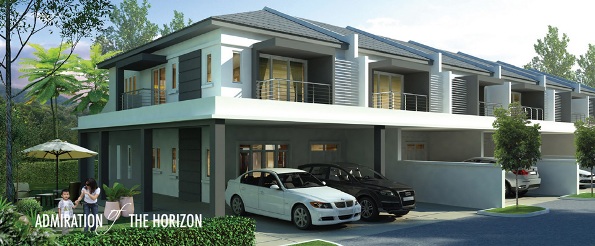 1.     Building Structure     :     Reinforced Concrete Structure Grade 20
2.     Brick Wall     :     Red Burnt Clay Brick Cement Plastered Wall
3.     Roofing     :
a.Main Roof: Miri Tile's Concrete Tiles with Wooden Roof Truss
b.Car Porch Roof: Metal roofing with steel truss
4.     Ceiling     :
a.Living, Dining, Bedrooms, Toilets, Kitchen, Store and Car Porch : Gypsum Plastered Ceiling (Flat Design)
b.Roof Leaves: UAC Super flex Ceiling
5.     Wall Finishes     :
a.Exterior Wall Paint: Jotun Weather Shield Paint
b.Interior Wall Paint: Emulsion Paint (ICI Maxilite White) with Skim Coat Finishes
c.Toilet Wall Tiles: 300mm x 200mm Porcelain Tiles
d.Kitchen Wall Tiles: 300mm x 200mm Porcelain Tiles
6.     Floor Finishes     :
a.Living, Dining, Guest Room, and Dry Kitchen: 600mm x 600mm Porcelain Tiles
b.Bathrooms: 300mm x 300mm Porcelain Tiles
c.Store: 300mm x 300mm Ceramic Tiles
d.Balcony: 300mm x 600mm Porcelain Tiles
e.Car Porch and Walkway: Cement Screed
f.All First Floor Bedrooms, Hall, and Staircase: Laminated Flooring
7.     Windows     :     White Powder Coated Aluminium Frame with Green Tinted Glass
8.     Doors     :
a.Door Frame (Include Balcony Door): Hardwood
b.Main Door: Decorative Plywood Door With Spray Finishes
c.All External and Toilets: Solid Wood Door with Paint Finishes
d.Bedrooms: MDF Skin Door with Paint Finishes
e.Store: Loves Plywood Door with Paint Finishes
f.Porch (Corner Unit): Aluminium Sliding Door
9.     Sanitary Installation     :
a.Wet kitchen stove concrete table top with 300mm x 600mm Porcelain Tiles finishes (2.5 meter length) with 660mm x 365mm hole reserved for cooking hood and a Double Bowl Stainless Steel Kitchen Sink with Sink Mixer (1 no.).
b.Ceramic Wash Basin with Basin Mixer and Pedestal: 3 nos
c.Ceramic Two-Piece Toilet Bowl: 3 nos
d.Washing Machine Tap: 1 nos
e.Car Porch Water Tap: 1 nos
10.     Air-Conditional Point     :
a.Living: 1 nos
b.Dining: 1 nos
c.Guest Room: 1 nos
d.Master Bedroom: 1 nos
e.Bedroom 2: 1 nos
f.Bedroom 3: 1 nos
11.     Water Piping     :
Conduit Stainless Steel Pipe for Hot Water Supply and Conduit Poly Pipe (with SIRIM approved) for Cold Water Supply
12.     Gas Piping     :     Internal Gas Piping (Not including Application, Inspection, Connection, and Installation)
13.     Water Tank     :     Stainless Steel Water Tank, 1000 liters (including water pump wiring only)
14.     Staircase Handrail     :     Stainless Steel Handrail
15.     Balcony     :     Stainless Steel Handrail
16.     Gate     :     Stainless Steel Sliding Gate, Auto gate conceal piping without wiring
17.     Fencing     :
a.Corner Unit: Half Brick Half Decorative Stainless Steel Fencing to all Front
b.Perimeter and Partition Wall: 5~5.5' height Brick Wall
18.     Septic Tank     :     Poly Septic Tank
19.     Flashing     :     Color-Bonded Metal Flashing
20.     Gutter     :     Color-Bonded Metal Gutter
21.     Electricity Supply     :     3-Phase Electricity Supply
22.     Others     :     Mailbox, Dustbin, TV point (2 nos.), Telephone Point (2 nos.), Door Bell Wiring only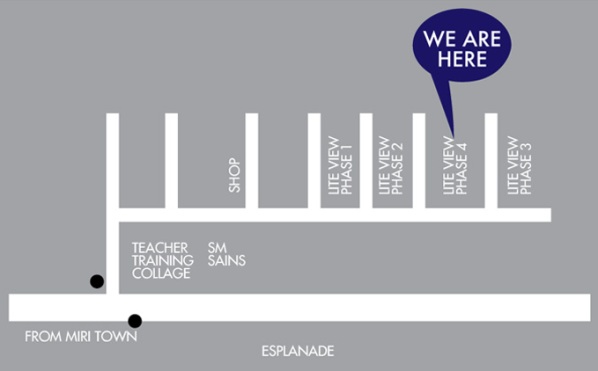 Homelite Development Sdn Bhd (643142-M)
Lot 10633, Airport Commercial Centre, Airport Road, 98000 Miri, Sarawak, Malaysia.