Have you heard of Kent's Garden in Miri? Well, it's not a garden. It's actually a nice unique place to dine in at night. The garden has great vacation looking designs, and this fascinating concept really attract many Mirians to dine there.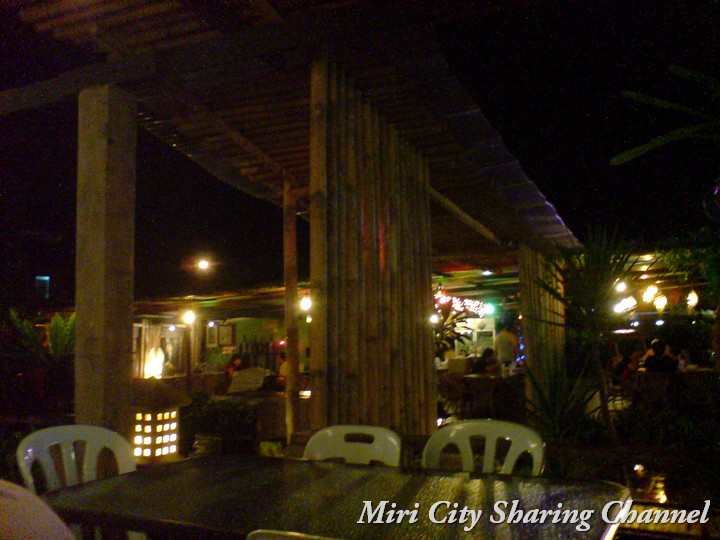 Unique dining garden design of Kent's Garden
Lets start off to explore its menu and surrounding.
Kent's Garden Miri Appetizer and Main Menu
Drinks to order in Kent's Garden Miri
Besides, there are also various choices of fresh juice, beverage, milk shake, and other drinks such as Beer, soft drink, Stout, Cocktail and Wine for you to enjoy there.
Straberry and Chocolate Milkshakes
The bananas hanging there are free to eat taken directly from the fresh farm! haha!
Free bananas you can enjoy over there
We tried their Penang Fried Kueh Tiaw and Penang Fried Mee, not bad and recommended!
Kent's Garden Miri Penang Prawn Noodle
Penang Fried Kueh Tiaw of Kent's Garden Miri
Let's see what they have in the menu:
Appetizer
Garden Salad (with homemade dressing)
Potato salad
Chicken in Basket
Mini Toast
Baked Mussels
French fries
Garlic Bread
Pineapple Fried Rice
Main
Lamb Shank
Beef Ribs
Roasted Chicken (with black pepper on mushroom sauce)
Fish and Chips (with homemade tartar sauce)
Lamb Chop with Vege & fries
Lamb cube
Penang Fried Kueh Tiaw
Penang Assam Laksa
Siam Bee Hoon
Oriental Fried Rice
Curry Laksa
Penang Prawn Noodle
Spaghtetti
Baked Cheese Rice (Bolognase Marinara or Mushroom sauce)
Yet, many still didn't know about this place. So, here is a map to guide you there:
Kent's Garden Map
Night View in Kent's Garden Miri
The Kitchen
The opening hours for Kent's Garden is 5:00pm – 12 Midnight. Sunday off. Last order for food is 11:10pm.
Maybe because of its unique appearance with cool atmosphere, this secret place has became popular among youngsters, friends and family members to enjoy their good food at night. Indeed, the car parks slot are full.
Kent's Garden Miri Parking lots full