Bank Negara Malaysia, in collaboration with all relevant stakeholders, has been conducting series of Karnival Kewangan in Sarawak. In order to get the momentum going throughout Sarawak, for 2019 Bank Negara Malaysia Kuching will be conducting medium scale Karnival Kewangan in Miri on 23-24 February 2019.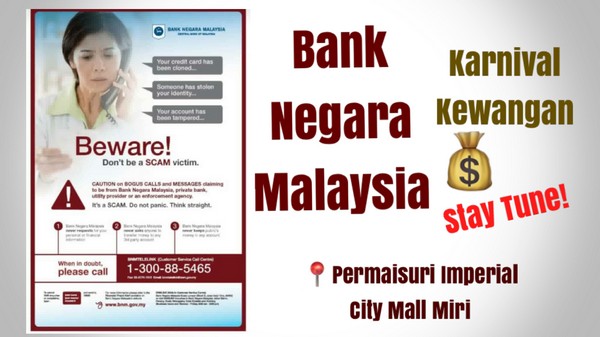 The Karnival will be held at Permaisuri Imperial City Mall and will be officiated by Penolong Gabenor Bank Negara Malaysia (BNM), Encik Abu Hassan Alshari Bin Yahaya.
As you are aware, the first large scale Karnival Kewangan for Sarawak was held on 24-25
November 2017 in Kuching. It was conducted under the theme of "Utamakan Keperluan Kewangan Anda" and it attracted about 25,000 participants.
During the Karnival, a series of leading and back-to-back events will also be organised to make greater impact to the local communities during the Karnival period as well as to attract the communities' participation. One
of the agenda is a mass promotion on financial crime awareness especially in Miri.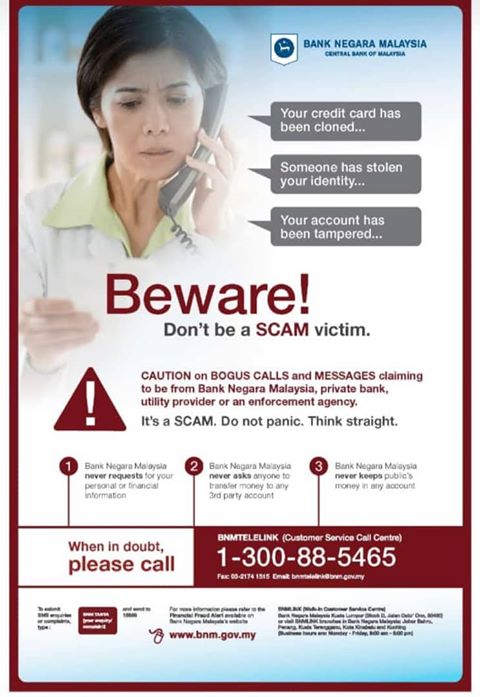 This poster brings a message that do not be a FINANCIAL CRIME VICTIM. Scammers will be claiming to be among others BNM staff, Police officials, Financial Institution officials and say that we have an outstanding loan.
Do not entertain their calls.
Do not share any of your personal details.
Do not reveal your online banking password, credit card details and so on.
Please call BNM or respective Financial Institutions for verification.
Please share this information
Sumber: Bank Negara Malaysia Office Kuching / 082-224200