House prices rose considerably, especially in a busy area nearby the city. The average selling market price of a house now is around 270 thousands Ringgit, while housing prices rise every year by at least 5% to 10%, which makes some of the young people intend to purchase deterred only, have wait and see.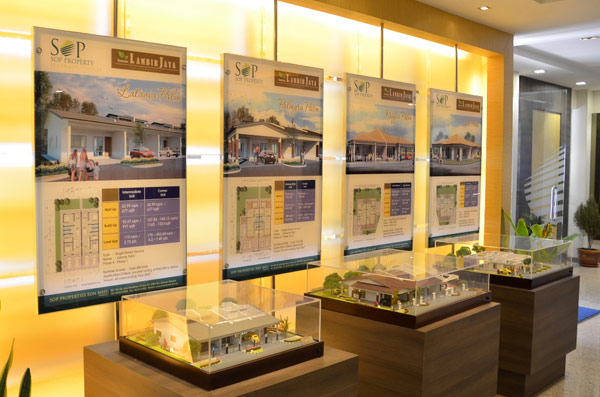 SOP Properties Sdn Bhd, a wholly owned subsidiary of Sarawak oil palm Group (SARAWAK OIL PALMS BHD, referred to as SOP) is planning to develop low-cost housing, which for those who desire to purchase economical and practical houses in LambirJaya Park Miri, new township at Bekenu junction which is undoubtedly a good news.
It is reported that the first phase of this housing development will build 572 housing units, including 380 low cost single storey terrace houses, the rest are middle cost single storey terrace houses and semi-detached houses.
About 40 km from Miri town
According to reliable sources pointed out that the low-cost housing will be priced below RM150,000 per unit, which belongs to the low-income families budget.
This housing development project accounted for about 200 acres of land, located in Bekenu highway junction, about 40 km from Miri town, is a strategic location, with government schools and clinics as well as existing gas stations and Bekenu stop.
Shophouses price 30% below the market price
In addition to housing development by the developers also plan to conduct commercial development, including the construction of several hundred units of shophouses in the area, this is definitely a good opportunity for those potential investors, especially those involved in the neighborhood growers, and now they can lower the cost of capital to start their business because shophouse prices in the region is estimated to be lower by at least 30%.
Retail and leisure facilities
In addition, there are other nearby retail and leisure facilities, such as a large wholesale and retail market, supermarket, gas stations, drive-in restaurants, schools, parks, playgrounds and factories. In the future will bring convenience to residents living in the area.
With the increases of local population and growing traffic, the region is also expected to turn into a new prosperous town, and prospects of its property price appreciation is to become a visionary investment, the launch will surely attract people who dream to own a house.