The Malaysia foremost cinema chain, Golden Screen Cinemas (GSC) is coming to Miri City under the new brand name "GSC Lite". The cinema located at Bintang Megamall Miri has 8-screen multiplex with approximately 1,000 seats facilitates enables Miri folks to take pleasure in the ultimate movie experience in digital 2D and 3D format.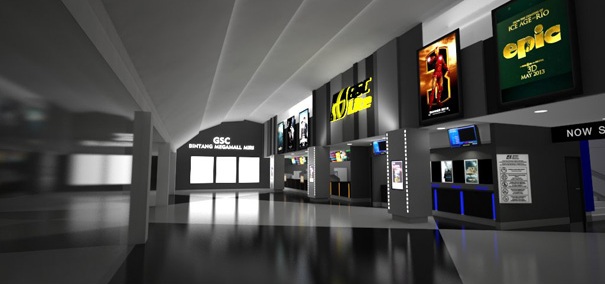 The GSC E-Payment (online ticketing) and SelfPrint options are available in GSC Lite Bintang Megamall enables customers to print their movie tickets after purchase tickets online and access into the cinema halls instantly by just scanning the 2D barcodes at the cinema checkpoint.
Apart from that, with GSC mobile apps from iPhone or Android, customers can use the "ticketless" option to select seats and purchase tickets easily through Maybank2u or PayPal accounts.
In the mean time, let's have a look at the interior 3D artist impression of GSC Bintang Megamall provided by GCS.