The picture is popularly shared through the social media. In the delicious looking picture, the author uses different kind of mille crepe cakes made from different crepe recipes. From vanilla pastry cream, chest nut, green tea, chocolate to various whipped cream added. Mille means 'thousand' in French, but of course you won't find thousand slices of crepe. While crepe is a popular France food made of ingredients like eggs, milk, flour, salt and butter. When combined, Mille crêpe is made of many layers of crepes. As a result, you can see delicious mille crepe cakes nowadays with layers of cream and pancake.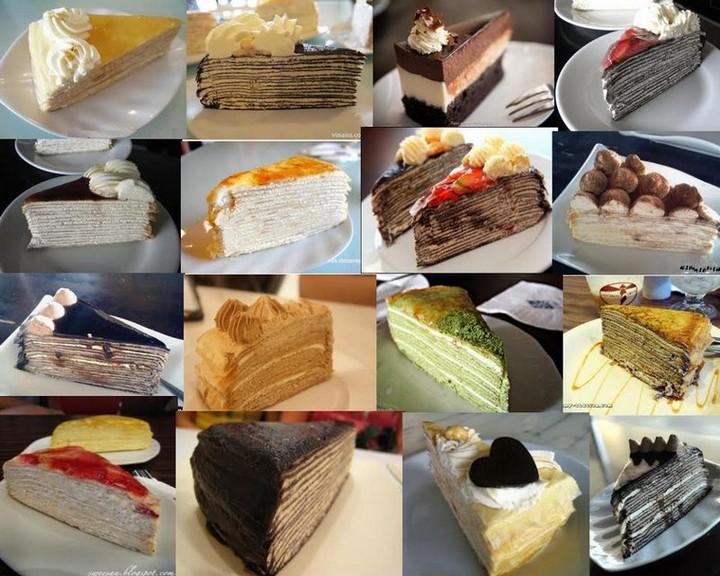 In Malaysia, mille crepe cakes can be found in Melaka (Melacca). So, cake lovers do take note when you visit Melaka, you should try them at a cake house which is famous with Mille Crepe Cakes known as Nadeje Patisserie cake shop located at Melaka Jonker Street. The founder of this cake shop is from Japan and all the cakes here are hand-made. At the moment you put the mille crepe cake into your mouth, you can feel like how is the "thousand" layers of cake texture get melted into your mouth. Tasty, not too sweet and creamy, sure you will love it.
The address of the shop is:
Nadeje Patisserie Cafe, Mille Crepe
G-23 & 25, Jalan PM4, Plaza Mahkota, 75000 Melaka, Malaysia.