Han Palace Restaurant Daily Dim Sum
Tantalize your tastebud with craze of Dim Sum at Han Palace Restaurant which serves authentic Cantonese Cuisine. The restaurant is located on the second floor of Grand Palace Hotel, Miri. The Dim Sum is now available EVERYDAY at the following day and time effective from 15th October 2012:
Monday to Wednesday: 11am- 2pm
Thursday to Sunday, Eve & Public Holiday: 8am- 2pm
Please contact Han Palace Restaurant for more information and reservation.
Tel:+6085 428888 Ext: 8333/ 8999 or 433899 (Direct Line)
Han Palace Restaurant: website
No comments yet.
No trackbacks yet.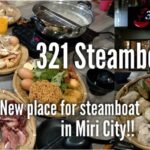 about 23 hours ago - No comments
Good news! New place for steamboat in Miri City! It's at 321 Steamboat. There are more than 80 kinds of dishes, including handmade foods, meats, seafood, veggie dishes, etc… There are five kinds of soup taste choices, there are Tomyam, Bazhen, Kelp, Bak Kut Teh, Chicken Soup. Take them, eat until full. Located in the area…