Thailand Durian Monthong Selling at Giant Hypermarket Brunei
The Durian with rich yellow flesh is loved by many people, besides having strong fragrant aroma, it tastes very delicious.
While traveling to Brunei, we were excited to the size of fresh mon-thong durians, selling at (Brunei Dollar) B$5.99 per kg in Giant Hypermarket, Tasik Rimba at Gadong. It was really huge, can reach up to 3 or 6 kg for one of them. Quite nice and sweet.
Hypermarket Address:
Giant Hypermarket Tasik Rimba
Lot 58865 Kampong Rimba, Mukim Gadong Daerah Brunei, Brunei Darussalam
Mall, Food Court, Department Store
No comments yet.
No trackbacks yet.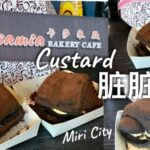 about 9 hours ago - No comments
You can get this custard dirty bun from the newly opened bakery at Casamia Bakery Cafe nearby Emart Riam Miri. First time eating it, not too large, one person can finish two dirty buns. With custard sauce in the middle. Zang Zang Bao/ Ang Zang Bao 脏脏包/肮脏包 Very tasty especially the croissant part of the bun,…