Tapao Sushi King's Matcha Ice Cream
After years of going Sushi King, we finally tried the ice cream there. It's around 10pm something, Sushi King is going to close soon. We ordered the matcha ice creams and tapao to eat elsewhere.
The matcha ice cream has the green tea ice cream taste. Matcha ice (抹茶のアイスクリーム Matcha no aisu kurīmu) is an extremly popluar ice cream flavour in Japan. Served with two small little waffle and cream. Taste good. The current price here is RM4.90 each.
No comments yet.
No trackbacks yet.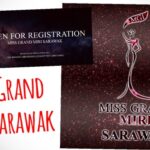 about 5 months ago - No comments
A very warm greetings to everyone, Our company Brenda and Brandan's Art Paradise are proudly to officially announce that we are selected to be the main organizer of Miss Grand Miri Sarawak for the coming year with support of GPS, own by Gina Regina Patrick ( Gina Production Studio ) and affiliate by Miss Grand…