Sushi King RM2 Bonanza in Miri City
Sushi King RM2 Bonanza is back! For those who do not know what this event is, you should have missing out a great chance to eat cheap price sushi. Okay, let me tell you. Sushi King RM2 Bonanza is a surprise event for Sushi King card members to enjoy all rice-based sushi on Kaiten Belt for only RM2 each plate.
To ensure dining pleasure for all Sushi King members, Sushi King had implemented 45 minutes per dining round session for each customer during the Sushi King RM2 Bonanza event. As usual, free flow of green tea only in Sushi King. Imagine if you were to line up for hours to enjoy all low price rice-based sushi, worth it. Luckily Sushi King branch in Bintang Megamall Miri here was not too crowded when we are to dine. See the plates of sushi we had eaten. Can you count how many are there? Yo! Sushi plates, stack higher and higher.
No comments yet.
No trackbacks yet.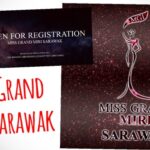 about 3 months ago - No comments
A very warm greetings to everyone, Our company Brenda and Brandan's Art Paradise are proudly to officially announce that we are selected to be the main organizer of Miss Grand Miri Sarawak for the coming year with support of GPS, own by Gina Regina Patrick ( Gina Production Studio ) and affiliate by Miss Grand…