Six Thousand Cafe in Miri City
Went there with friend for a dinner, somewhere at the shop houses opposite Imperial Mall Miri. This is a cafe called Six Thousand Cafe. It is also a great place where you can spend your night at to relax and meeting up with friends with very nice food and valuable price. The cafe serves variety of food to desserts and beverages. You can see their attractive menu.
Their chicken with Mushroom sauce and French Fries taste pretty good. The Black Pepper Chicken with rice also not bad at a reasonable price. Black theme environment and cool decoration.
No comments yet.
No trackbacks yet.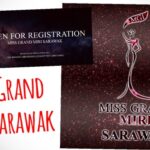 about 5 months ago - No comments
A very warm greetings to everyone, Our company Brenda and Brandan's Art Paradise are proudly to officially announce that we are selected to be the main organizer of Miss Grand Miri Sarawak for the coming year with support of GPS, own by Gina Regina Patrick ( Gina Production Studio ) and affiliate by Miss Grand…