Roasted Chicken Rice [洪记阿都烧腊]
When you think of Miri's popular old brand roasted chicken rice delicacies, usually those located at open air market Miri are the ones that come into mind first. In this post, we tried the stall named 洪记阿都烧腊. To get here, simply follow the road leading to the Unity Food Centre, just opposite open air market Miri and you will see the stall behind a row of the single storey old shophouses.
Look at the appetizing golden-brown appearance of the chicken largely attributed to the mix of their special sweet chicken sauce, served hot with the white rice. Not expensive and many people could afford it on a regular basis at RM4.00 per plate. Within few minutes of placing our order, the roasted chicken rice were already delivered to our table, how fast they are. Besides, the stall also sell roasted pork rice, duck rice, fried noodles and fried kueh tiaw (wet and dry).
No comments yet.
No trackbacks yet.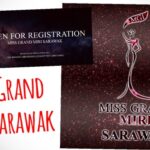 about 3 months ago - No comments
A very warm greetings to everyone, Our company Brenda and Brandan's Art Paradise are proudly to officially announce that we are selected to be the main organizer of Miss Grand Miri Sarawak for the coming year with support of GPS, own by Gina Regina Patrick ( Gina Production Studio ) and affiliate by Miss Grand…