Oppan Gangnam Style Happening in Miri City
The Korean dancing "Gangnam Style" is becoming increasingly popular on the Internet. However, you haven't seen any Miri version's Gangnam Style yet.
Check out Miri City's first Oppa Gangnam style dance performed by Kung Fu Panda, Bugs Bunny, and the Red fella during the opening of TT Art Mobile's new outlet in Boulevard Shopping Complex, Miri. Oppa Miri Style at TT Art Mobile.
No comments yet.
No trackbacks yet.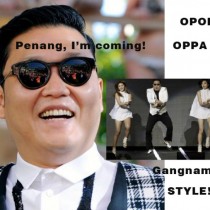 about 4 years ago - No comments
Popular Korean singer PSY, will be coming to Penang, Malaysia during the Chinese New Year, at least 60,000 people with crazy jump "horse dance" by the moment! "Guangming Daily" discovers the exclusive news swept the world of horse riding dance Korean singer PSY, traveled to Shanghai, China in this year's New Year's Eve as Dragon…