Fresh Coconut Drink at Taman Selera Miri
Taman Selara is located at the Brighton Beach which was Miri's first recreational park for the locals and tourists to hang out in the evening and at night. There are many famous stalls here selling local delicacies, first-class seafood and drinks.  But my preference leans towards a stall selling coconut drinks (RM4 per coconut) – simply because the coconut is young, juicy and fresh hence suits my mode to enjoy there near the beach.
A few outdoor facilities like children's playgrounds are available for kids. A great place for friends and family gathering, watch the glorious sunset thrown in for free far from a land filled pier extends out into the South China sea. And not to mention the place at the open-air food centre with windy and cool air from the beach is more comfortable to eat and drink too.
No comments yet.
No trackbacks yet.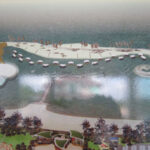 about 3 years ago - No comments
In order to transform Miri into an ultra modern recreational, shopping, dining, entertainment and residential area in the state, another Man-made Seahorse Island will be constructed in Miri City's Brighton beach. About Miri City's man-made Seahorse Island: Located 800 metres from Brighton Beach. A man-made island, shaped like a seahorse is developed by Episo Group…