Famous MyKuali Penang White Curry Noodles
"MyKuali Penang White Curry Noodles" following last year blog "The Ramen Rater" was elected as "the world's top ten most spicy instant noodles," ranking No. 7. Once ranked as one of the famous noodles in topped the list, many sellers will set off another stock craze this year.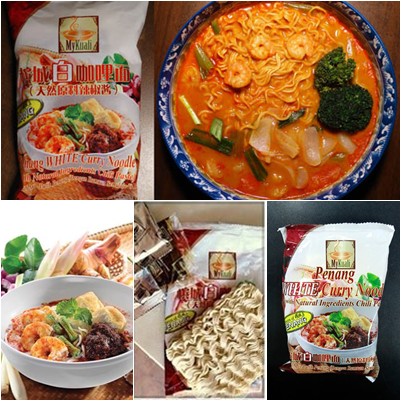 This was according to vote rankings from a well-known American people and instant noodles blogger, Hans Lienneisi (Hans Lienesch), that has always received public attention. MyKuali Penang curry mee white list was last year after causing many consumers are attracted to buy, was sold off the city.
Hans Lienneisi's rankings were released on Monday the results in his blog, the MyKuali Penang curry mee commentary for the ultimate white taste, the texture of the noodles just right, not too thick nor too thin, there is a perfect chewy.
"It's full of rich curry sauce, it was amazing also impressed me, I will consider it as a day want to eat instant noodles. Really wonderful!"
It is worth mentioning that another Malaysian brand – Mummy Lassa curry flavor instant noodles also entered the "instant noodles world's top ten" list, and ranked No. 7; addition, Singapore and South Korea have three kinds of fast ENTRY familiar noodles, while Thailand and Japan will have one kind of instant noodles ENTRY. (according to Guangming Daily)
"Prior to this list appeared, people do not particularly pay attention to our food. Once foreigners certainly after, only to snap together. . . . Oh ~ "
This entry was posted by admin on May 11, 2014 at 6:56 am, and is filed under News. Follow any responses to this post through RSS 2.0. Both comments and pings are currently closed.
Comments are closed.