Double Storey Terrace House at Palm Villa 3, Taman Tunku Miri
Proposed 20 units double storey terrace houses project for Sin Siang Hai at Palm Villa, Taman Tunku Miri. Two cars can be parked at the car porch for intermediate unit, while corner unit has a bigger car porch to fit in four cars.
Floor plans designed by Gordon Architect. First floor has one washroom, maid room, wet kitchen, laundry dry, drying yard, dry kitchen, guest room, dining, courtyard, living, store, car porch and patio (corner unit only). Ground floor has 3 bedrooms and 3 washrooms. One balcony for intermediate unit and two balconies for corner unit.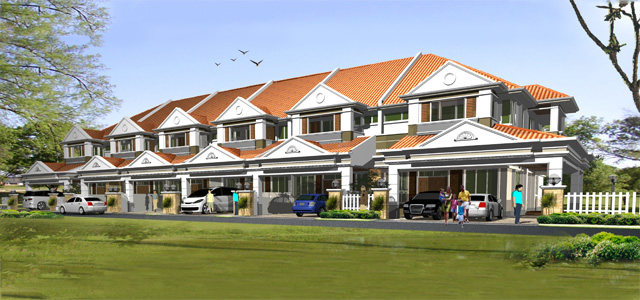 FIRST FLOOR
Bedrooms: Laminated Flooring
GROUND FLOOR
Living and Dining Room and All Bedrooms: 24″ x 24″ Ceramic Tiles
Toilet, Bathroom, Kitchen & Patio: 8″ x 8″ Homogeneous Tiles
WALL
Wet Kitchen: 8″ x 10″ White Ceramic Tiles
Bathroom: 10″ x 13″ Ceramic Tiles (Master Bathroom and Guest Bathroom)
FENCING
Concrete fencing side
Chainlink fencing for rear fencing
Front – concrete fencing
ELECTRICAL INSTALLATION
Concealed (Three Phase)
MASTER BEDROOM
1 Shower "Inax"
1 White Wash Basin "Inax"
1 Sitting Toilet "Inax"
SMALL BATHROOM
1 Shower "Inax"
1 White Wash Basin "Inax"
1 Sitting Toilet "Inax" Or equivalent in price
STAIRCASE
Laminated Flooring
ROOFING
Lion Tiles
Zinc metal sheet base
CEILING
(a) Living, Dining, Bedroom, Wet Kitchen and Bathroom made with suspended gypsum plaster board ceiling with metal stud
(b) Patio and Car Porch made with gypsum board ceiling
ALL WINDOWS
White color powder coating Aluminium Casement Window with Dark Green Tinted Glass
PAINTING
K.C.C. Paint
1 pair of decorative doors for Front Main Entrance
All interior doors shall be furnished with plywood door
WET KITCHEN
1 no. stainless steel double bowl sink without drainer
2 nos. of "C20P" gas ring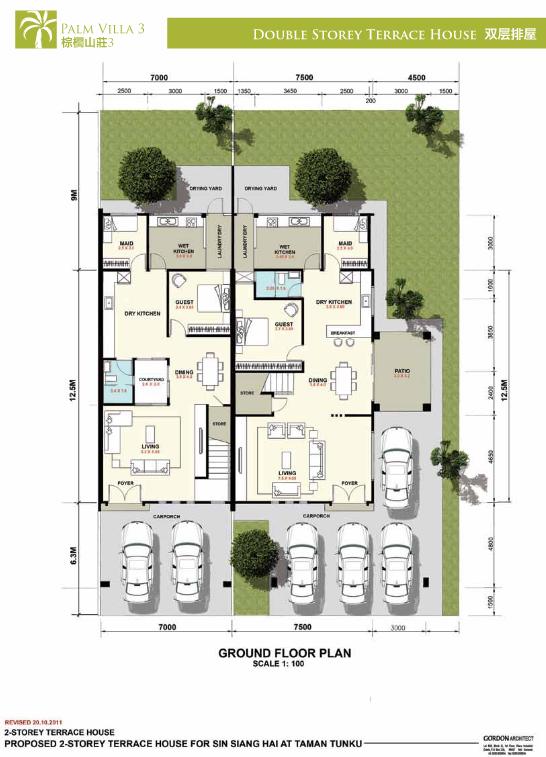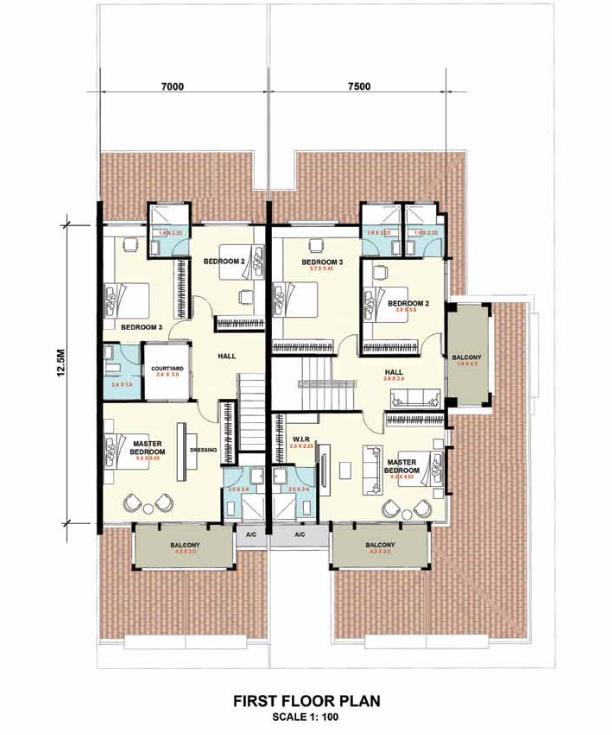 20 units Double Storey Terrace House (in green)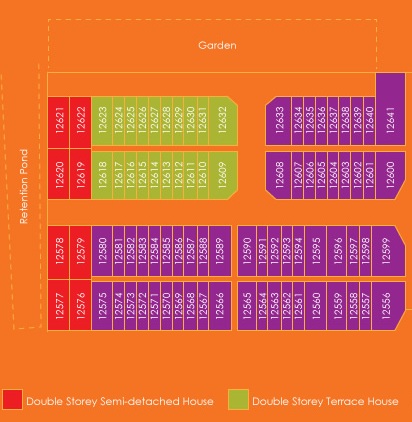 Palm Villa 3 location map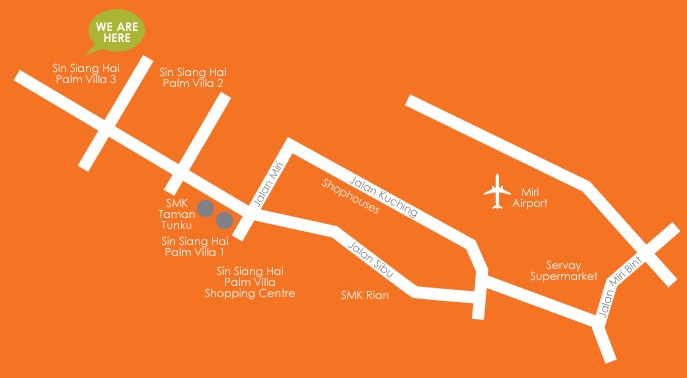 Developer information:
Oxrich Garden Sdn Bhd (wholly owned by Sin Siang Hai Sdn Bhd)
Office Address: Lot 1455 Piasau Industrial Estate, 98000 Miri, Sarawak
Mailing Address: P.O. Box 826, 98007 Miri, Sarawak, Malaysia
Tel: +60 85-655827 / 656827
Fax: +60 85-651962
Email: info@oxrichgarden.com.my or admin@oxrichgarden.com.my
This entry was posted by admin on September 22, 2013 at 5:54 pm, and is filed under Development, Taman Tunku. Follow any responses to this post through RSS 2.0. Both comments and pings are currently closed.
Comments are closed.