Delicious Roasted Drum (Singapore Chicken Rice) Miri
The shop was fulled with the number of customers having their dinner there. No place to sit. It's Singapore Chicken Rice (SCR) of Miri branch at Mega Hotel. So, decided to take away (tapao) the roasted drum chicken rice. The light brown colour of the Hainanese chicken rice indicates that it has a rich fragrant of chicken with few slices of cucumber below the meat.
Looking at it, you can know how delicious this roasted drum chicken rice could be. And of course the roasted chicken tastes good as well with the rice. You know how smooth, firm, and juicy is the drum. In fact you should try to tapao their drum chicken rice there one day.
No comments yet.
No trackbacks yet.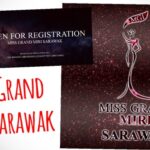 about 5 months ago - No comments
A very warm greetings to everyone, Our company Brenda and Brandan's Art Paradise are proudly to officially announce that we are selected to be the main organizer of Miss Grand Miri Sarawak for the coming year with support of GPS, own by Gina Regina Patrick ( Gina Production Studio ) and affiliate by Miss Grand…