Custard Puffs at Sau Pau Cafe, Miri Town
If you are keen to eat Custard Puffs, you can get them from the Sau Pau Cafe branch in Miri town. The Custard Puffs are great when served piping hot with a slab of custard cream in the bun and a swipe of butter smell along the puff. I love the savoury choux pastry and the rich custard that filled it.
The Custard Puffs here are worth to try if even they are quite small and expensive. The price is RM1.50 each. Yet, so delicious!
You can get them at the following address:
Sau Pau Cafe (烧包) Lot 1098, ground floor (Jln Permaisuri), Miri, Sarawak 98000, Malaysia.
Phone: +6085-438634
No comments yet.
No trackbacks yet.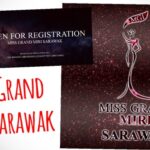 about 5 months ago - No comments
A very warm greetings to everyone, Our company Brenda and Brandan's Art Paradise are proudly to officially announce that we are selected to be the main organizer of Miss Grand Miri Sarawak for the coming year with support of GPS, own by Gina Regina Patrick ( Gina Production Studio ) and affiliate by Miss Grand…