Curtin University Sarawak Campus Map Download
Curtin University Sarawak is the first foreign University branch (off-shore campus) established in East Malaysia, Miri, Sarawak since year 1999. Curtin University's headquater is based in Perth, Western Australia.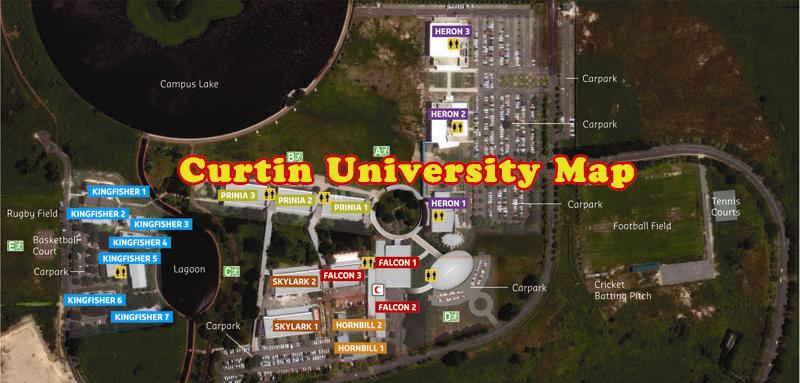 The new Curtin Sarawak campus was built in 2012 and now the students of the University is growing from years to years. The university currently has more than 3,000 students and aims to have 8,000 to 10,000 students in the next three to four years. Until today, the expansion of the school infrastructure has turned into a big map due to the increasing number of students.
Lost in Curtin? Well, hopefully the map can give you some guides. Specially for newbie students and visitors of Curtin. Did you see there is a lake in the campus? Get the full online map from Curtin now, save it as picture to download!
Curtin University Sarawak Handy Map Guide and Download
HERON 1 (John Curtin Building)
Reception, Student Central, Study Area, Council Room, Executive & Administrative Offices, Conference Room
HERON 2 (Lance Twomey Building /SCHOOL OF BUSINESS)
Lecture Theatres, Classrooms, Lecturers' Offices, Curtin Consultancy Services (Malaysia) Sdn Bhd
HERON 3 (Recreation & Event Centre)
Event Hall, Weight Room, Cardio Corner, Sports & Recreational Services
PRINIA 1
Campus Services, Security, Counselling & Disability Services, SCHOOL OF ENGINEERING 6 SCIENCE – Lecturers' Offices
PRINIA 2
Classrooms, Seminar Room, Media/Journalism Laboratory , Computer Laboratories, SCHOOL OF CONTINUING STUDIES – Lecturers' Offices
PRINIA 3
Classrooms, Seminar Room, Computer Laboratories
SKYLARK 1 (SCHOOL OF ENGINEERING & SCIENCE)
Laboratories, Workshops
SKYLARK 2 (SCHOOL OF ENGINEERING & SCIENCE)
Laboratories
HORNBILL 1
ICT Services, Laboratories
HORNBILL 2  
Classrooms
THE CHANCELLERY
The Library, The Auditorium, Food Kiosk
FALCON 1  (Harry Perkins Lecture Theatre)
FALCON 2 (Drop-Off Zone)
Surau, Bookshop, Student Council, Convenience Store, Health Services Er First Aid Centre, Computer Laboratories
FALCON 3 (Food Court)
KINGFISHER 1-7
Loagan Bunut, Similajau, Sibuti, Mulu, Niah, Lambir, Lake Café S Multipurpose Hall
This entry was posted by admin on October 29, 2014 at 3:11 pm, and is filed under Development, Senadin. Follow any responses to this post through RSS 2.0. Both comments and pings are currently closed.
Comments are closed.