Chicken & Pasta Meal Promotion at Kenny Rogers ROASTERS
Good news to all chicken lovers out there. Now, you could enjoy the delectable Chicken & Pasta Meal which is KRR's famous Rotisserie-roasted 1/4 chicken paired with tantalizing spaghetti with the choice of Beef Bolognaise, Tangy Chicken or Cheezy Chicken flavour. Complemented with one side dish and a Mocha Chips Muffin at only RM22.50. The promotion is available at all Kenny Rogers ROASTERS valid from 5 November 2012 till further notice.
Try KRR's new beverages:
Frosty Angel – Creamy vanilla milkshake with pearls, bits of chocolate and jelly at RM11.90.
Bubbly T – Iced tea latte with pearls and jelly at RM8.50.
Or now, you can add pearls to any drink of your choice for RM1.00 only.
Product shown is for illustration purposes only.
* Subject to current Government Tax and 10% Service Charge where applicable.
KRR's: website
No comments yet.
No trackbacks yet.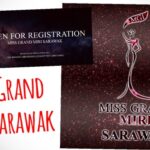 about 5 months ago - No comments
A very warm greetings to everyone, Our company Brenda and Brandan's Art Paradise are proudly to officially announce that we are selected to be the main organizer of Miss Grand Miri Sarawak for the coming year with support of GPS, own by Gina Regina Patrick ( Gina Production Studio ) and affiliate by Miss Grand…