Chatime is coming to Miri 101 Commercial Centre
Another new place to yamcha in Miri City. Previously Chatime Malaysia official page announced that Chatime will be back to Miri City, after the opening of Chatime Midvalley. Great news as Chatime is opening in Miri City this November! Chatime is iced tea like you've never had it before. Bursting with surprising, innovative, exotic and funky flavors. Must come & grab one!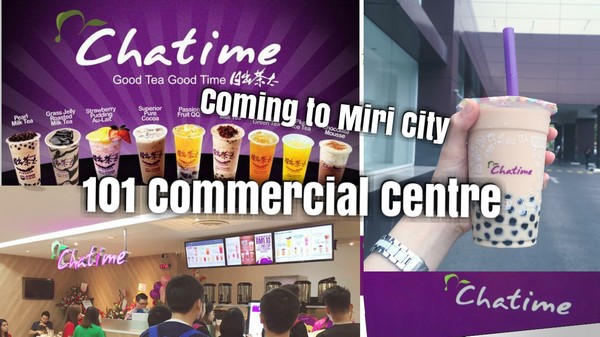 About Chatime:
Chatime is a franchise founded in Taiwan with over 800 retail outlets across 32 countries like United Kingdom, France, USA, Canada, Dubai, Australia, Korea, Taiwan, China, India, Macau, Vietnam, Singapore, Hong Kong, Thailand, Philippines, Indonesia, Vietnam and of course, Malaysia!
As one of the top beverage companies in the world, Chatime Malaysia aims to be everyone's favourite beverage by revolutionizing the drinking culture in our country. We prepare only hand-made beverages with freshly brewed tea, coffee & chocolate drinks prepared on site topped with our freshly made toppings to make sure our fans get to enjoy only the best, highest quality of fun drinks!
Checkout Chatime Miri's hiring and recruitment.
Chatime Miri Address & Contact:
Location is at 101 Commercial Centre.
Mobile no for business is 0132193859
Email is chatime.mirisarawak@hotmail.com
This entry was posted by admin on September 30, 2017 at 7:57 am, and is filed under Beverage, Food and Drink. Follow any responses to this post through RSS 2.0. Both comments and pings are currently closed.
Comments are closed.